New Cyber Fellow Brings Decades of Expertise in Disaster Communications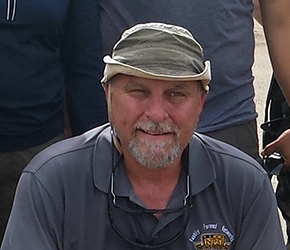 The Middlebury Institute of International Studies' Cyber Initiative (MIIS Cyber) recently welcomed Brian D. Steckler as its new senior fellow on disaster communications. In this new role, Steckler will harness nearly 40 years of expertise in disaster relief communications to provide consulting expertise, research, hands-on demonstrations, and in-class instruction for Middlebury Institute students.
Steckler's decades of experience include 12 years managing interoperability at the government inter-agency level, seven years in the private sector and 20 years in the U.S. Navy, of which 10 were spent as a cryptologic technician and 10 as an officer, including a surface warfare officer, communications officer, mine warfare officer, and information systems officer. He is the recipient of the Red Cross "Military Hero" award for his work in Hurricane Katrina.
Since 2004, Steckler has directed the Hastily Formed Networks Research Group at the Cebrowski Institute of the U.S. Naval Postgraduate School (NPS) in Monterey, leading teams of faculty and students into numerous real-world, major disasters to provide critical communications to the early-responder community with both wireless equipment solutions and interoperability at the civil-military boundary.
"It is an honor and a privilege to join MIIS Cyber as the senior fellow on disaster communications. I have followed the Institute for many years as a local Monterey-area resident and was pleased to see them set up this cyber program as it is critical for MIIS students, faculty, and research staff to be on the bleeding edge of such an important aspect of today's world," said Steckler. "I also look forward to learning from these top-notch, international graduate students."
Steckler was also recently confirmed as a member of the Super Bowl 50 Cyber Committee supporting the event, joining a team comprised of the U.S. Department of Homeland Security, the Federal Bureau of Investigation, and other security/law enforcement agencies tasked with securing this major event, to be held in Santa Clara, California's Levi's Stadium in February 2016. Additionally, Mr. Steckler is a founding member of the CAL FIRE Comms Task Force, a group of volunteer information and communications technology experts who assist CAL FIRE during wildfire events.
At NPS, Mr. Steckler has developed and taught courses focusing on humanitarian assistance and disaster relief, computer network attack/defense, operational security and electronic warfare basics. Steckler also developed the first information operations curriculum at the National University of Singapore in 2004 and is an adjunct faculty member at San Diego State University.