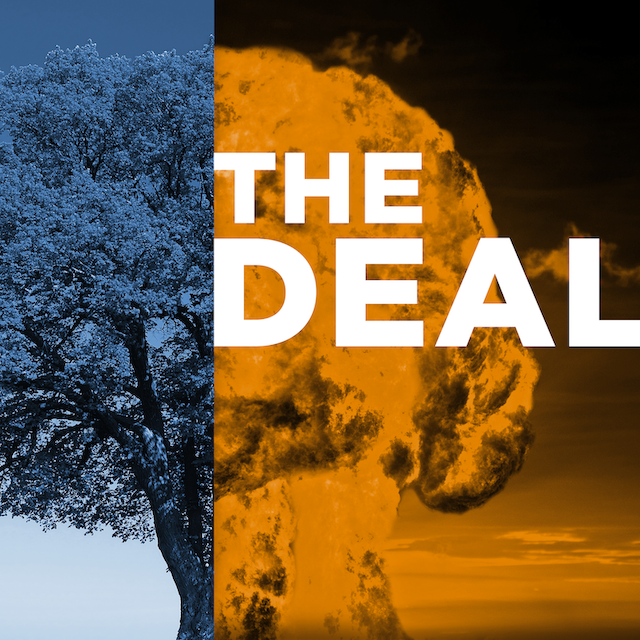 The Deal is a new podcast series hosted by Professor Jeffrey Lewis, director of the East Asia Nonproliferation Program at the James Martin Center for Nonproliferation Studies telling the story of the Iran nuclear deal; how it came together, how it fell apart, and what that means for the rest of us. 
In the first episode, The Revelation, launched on Tuesday, September 8 listeners will learn about Corey Hinderstein, a young research analyst, who in 2002 follows a hunch after a routine press conference in D.C. The results of her scavenger hunt spark a diplomatic crisis that stretched more than a decade, lasted through two presidencies, and ended with a deal that, depending on whom you ask, either "makes our country, and the world, safer and more secure" or is "a horrible deal that should never, ever have been made."

The Backchannel. The second episode features Ambassador Wendy Sherman. An international crisis is a little like a relay race. In 2011, the baton passes into the hands of diplomats like American ambassador Wendy Sherman, who led the P5+1 team negotiating the Iran deal.
American Secretary of Energy Dr. Ernie Moniz and Dr. Ali Salehi, director of the Atomic Energy Organization of Iran, are brought to the world's highest-stakes negotiating table to do what the diplomats can't. The fourth episode The Scientists includes an original interview with Dr. Moniz and original audio of Richard Stone's exclusive interview with Dr. Ali Salehi.
In 2018, Israeli Prime Minister Benjamin Netanyahu makes the claim that Iran lied and things quickly begin to fall apart. The Unraveling, the fourth installment of this series features Aaron Arnold, research fellow with the Project on Managing the Atom, who shares his story of traveling to Tel Aviv to receive a briefing on the Atomic Archive, and more.
The fifth and final episode, to be released on Tuesday October 6 is called The Power to Hurt. It's not that we're going to wake up tomorrow and there will be a nuclear war. It's that if things don't change, someday there will be
You can subscribe to The Deal at Apple Podcasts, Stitcher, or Spotify. 
The most terrifying thing about the new novel by Professor Jeffrey Lewis about a nuclear war with North Korea "is how much of it is true," says The Economist.
Richard Engel of NBC News visited the Middlebury Institute campus to learn more about how a group of academics are using creative problem solving and innovative tools to gain insight into North Korea's nuclear missile program.
"I think the U.S. failure to resolve the issue of North Korea's nuclear challenge is having a corrosive effect, along with a lot of other things, on the core idea that the U.S. is the indispensable partner for Seoul and Tokyo," Jeffrey Lewis, Middlebury Institute professor and arms control expert at the James Martin Center for Nonproliferation tells TIME Magazine.