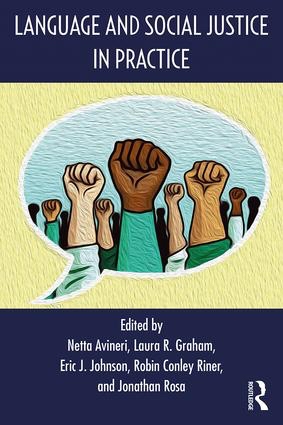 Middlebury Institute Professor Netta Avineri has co-edited (with Laura R. Graham, Eric J. Johnson, Robin Conley Riner, Jonathan Rosa) the Routledge Publishers volume Language and Social Justice in Practice. 
From bilingual education and racial epithets to gendered pronouns and immigration discourses, language is a central concern in contemporary conversations and controversies surrounding social inequality. Developed as a collaborative effort by American Anthropological Association's Language and Social Justice Task Force members, this innovative volume synthesizes scholarly insights on the relationship between patterns of communication and the creation of more just societies. The book includes 24 case studies by scholars and practitioners focused on Language & Race, Language & Education, Language & Health, Language & Social Activism, and Language, Law, & Policy.
Professor Netta Avineri hosted the workshop "How to ACE Your Language Classroom" at the Penn State Center for Language Acquisition Language Forum in October.
The chapter conceptually discusses the contemporary threat from terrorist groups, examining the definitional aspects of the phenomena, the underlying motivations behind terrorism, including religious extremist ideology, ethno-nationalist separatist objectives, psychological factors, etc. It also discusses enabling factors aiding terrorism, including state sponsorship, and weak and failed states.
Middlebury Institute Professor Deniz Ortactepe recently designed and implemented an innovative project to raise awareness of social justice among aspiring English language educators in Turkey.