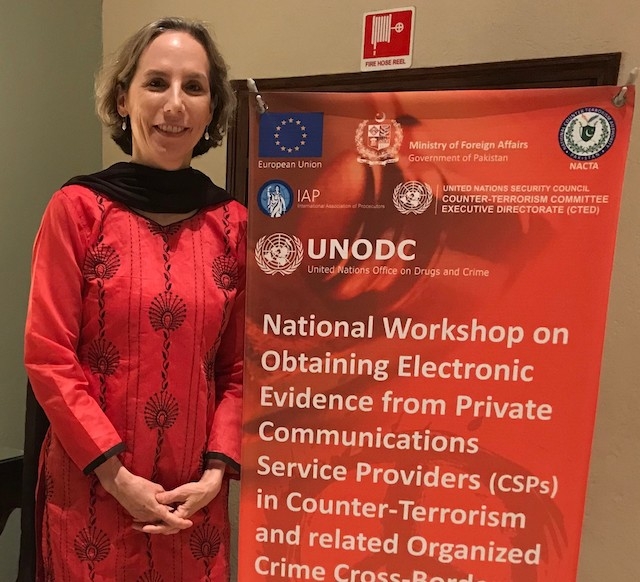 Associate Professor Moyara Ruehsen recently conducted training for Pakistani government officials and law enforcement in Islamabad, Pakistan.
The training focused on open source tools for financial crime investigations and suspect identification, and in particular the treasure trove of intelligence available from social media websites. This is the fifth training of this kind that professor Ruehsen, who oversees the Institute's Financial Crime Management program, conducts in collaboration with the United Nations Office of Drugs and Crime (UNODC). The previous training sessions were held in Sri Lanka, Bangladesh, Singapore, Indonesia, and finally this summer in Pakistan.
Middlebury Institute of International Studies (MIIS) Associate Professor, Dr. Moyara Ruehsen, briefed attendees at United Nations Office of Drugs and Crime meeting on the importance of using open source intelligence to track illicit financial activity. The meeting was focused specifically on counterterrorism financing, proliferation financing, and maritime facilitation of Weapons of Mass Destruction (WMD) proliferation. Dr. Ruehsen oversees MIIS's world-renowned financial crimes program.
Associate Professor Moyara Ruehsen has been teaching courses on financial crime—including money laundering, trade-based financial crime, corruption, proliferation financing, and terrorist financing—at the Institute since 1994. 
Monterey Institute Professor Moyara Ruehsen, an economist and anti-money laundering specialist, was asked by National Public Radio to respond to news reports about billions of U.S. taxpayer dollars falling into the hands of corrupt Afghan officials.