State Officials Address Climate Change & Civic Engagement at Public Forum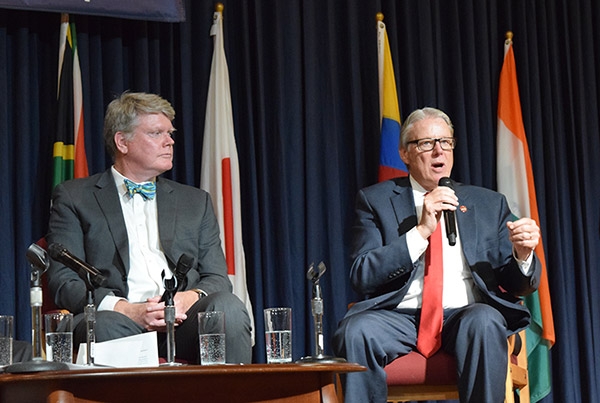 Arguing that the best antidote for the cynicism that dominates the public conversation today is keeping people engaged, a trio of California state officials aimed to do just that during a well-attended, wide-ranging dialogue at the Middlebury Institute on April 13.
Hosted by the Institute's Center for the Blue Economy (CBE), "Setting the Course: California Leadership in the Age of Trump" featured State Senator Bill Monning, Assemblymember Mark Stone, and California Secretary of Natural Resources John Laird in a conversation moderated by CBE Director Jason Scorse, chair of the Institute's International Environmental Policy program. While environmental policy was one obvious focus of the conversation—and an area where California state policies are now significantly out of alignment with federal priorities—the conversation also ranged into discussions about the drivers of economic growth, immigration policy, budget priorities, and the influence of money in politics.
The three state officials agreed before a full house in the Institute's Irvine Auditorium that climate change is one of the areas where the difference between state and federal perspectives and policies are the starkest today. Secretary Laird described Governor Jerry Brown's pronouncements on climate change as "so crystal clear. He calls climate change 'the existential crisis of our time'." Calling the state's ambitious climate change goals "aspirational" and acknowledging it will take "major steps" to hit them, Laird nonetheless argued that policies that focus on conservation and promoting renewable energy sources are "really good economics as well as really good for the environment."
Senator Monning, a former faculty member at the Institute who is now California's Senate Majority Leader, noted that the yawning divide between state and federal perspectives inspires some to prioritize a search for areas of agreement. He has a different view. "People say 'You shouldn't take them on, you shouldn't provoke them. We're going to lose funding for health care or law enforcement or other important programs.' We're not looking to provoke—we're looking to protect. We're looking to protect our environment, and our workforce, and all Californians."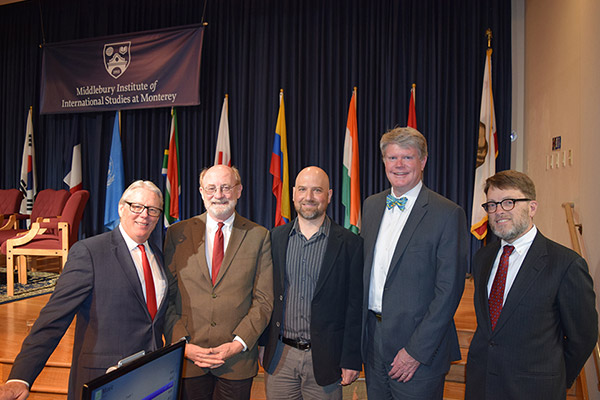 On the subject of what the state's priorities should be, Assemblymember Stone noted that over the past few decades "We were building prisons instead of universities. We've been really upside down as far as what we've been investing in in California… We don't have higher crime rates in California than other states, but we have the highest incarceration rate of any jurisdiction in the world. And it's not making the community safer." Stone went on to argue that "until we actually start closing prisons, we're not going to be able to reduce the amount we're spending on them and start to invest in higher education."
Taking the long view on the question of what the average citizen can do to create positive change in the current political landscape, Monning concluded that "It's all connected; there is no one single fix. The fix is engagement, it's social action, and it's broadening our vision to include communities that don't necessarily live next door to us or look just like us."
In brief introductory remarks, Vice President of Academic Affairs and Dean of the Institute Jeff Dayton-Johnson noted that the panel reflected the Institute's core commitment to addressing the critical issues of our time while also engaging the broader Monterey-area community as part of that conversation.