Student Marathoner Runs for Fun, Inspiration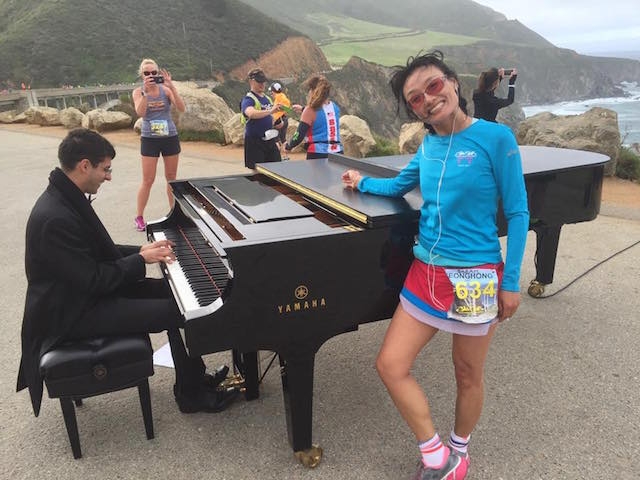 International Education Management student Sarah Go MAIEM '16 ran the famed Big Sur Marathon on Sunday, completing her fifth marathon in five years, and her first one in the continental U.S. Go, who is originally from China, signed up for the race last July, before moving to Monterey. "I waited in front of the computer until the exact right time, the same as registering for classes," she joked, adding that there are many analogies between graduate school and running a marathon.
"My purpose in running is not to have the best racing time, but to have the most fun and to enjoy the journey," Go shared. She stopped to take a photo at each of the 26 mile markers, as well as enjoy the sights and music performances along the way. She even stopped to play drums with a Taiko percussion group for a bit and watched Michael Martinez play the baby grand piano by the Bixby Bridge. Despite stopping to take photos and interact with the volunteers, Go managed to finish the race in four hours and 45 minutes.
Go ran her first marathon in Seoul in 2011, when she was part of the running club called Seoul Flyers, primarily a group of expats. In fact, she first discovered the Middlebury Institute through running with the Flyers. One of the members had spent three years in Monterey, studying at the Defense Language Institute and the Naval Postgraduate School, and she recommended that Go search for a language teaching position in Monterey. She had been teaching English at Seoul Women's University for several years, and was open to a change. Rather than continue teaching, however, she decided to enroll in the Institute's International Education Management Program.
After being accepted to the program, Go immediately started planning for the Big Sur marathon. "Everywhere I go, I want to run the best race available," said Go, who has previously completed marathons in South Korea, China, Thailand, and Hawaii. In Big Sur, she was most struck by the supportive running culture of this race. She was touched by the openness of the other runners, and the generosity of the volunteers and strangers that were there to help. "That makes all the difference," said Go about having companions and people cheering you on, "the same as here at the Middlebury Institute."