Student Shares Experiences from Three Internships with U.S. State Department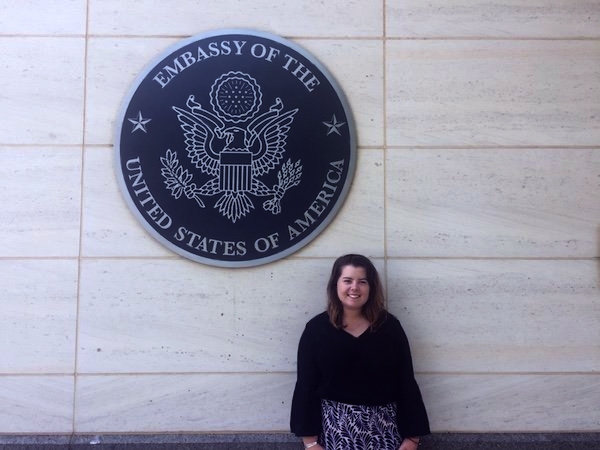 This fall semester, Middlebury Institute student Michala Braun MANPTS '18 was selected to partake in her third internship with the U.S. Department of State, with the Diplomatic Security Service in the Regional Security Office at the U.S. Embassy in Dakar, Senegal.
The Diplomatic Security Service (DSS) is the law enforcement and security arm of the U.S. Department of State. During her internship Michala is conducting two directed study projects, and writing three research papers; on female and child suicide bombers in West Africa, the role of AFRICOM in West Africa, and U.S. Embassy Security in West Africa. During her time at U.S. Embassy Dakar, Michala was selected to participate on a week-long diplomatic delegation to Senegal's distant, rural regions bordering Mali and Guinea. Additionally, she helped conduct training on fraudulent documents, participated in the visa fraud interviewing process with DSS Special Agents, conducted geospatial analysis in Senegal and Guinea-Bissau with a focus on identifying dangerous travel areas in known conflict zones, and assisted with several embassy emergency response drills.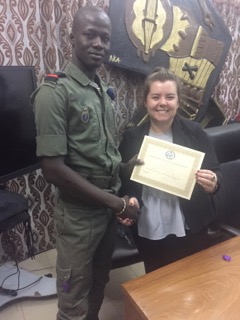 Braun expressed her appreciation for the opportunity to conduct directed study projects while enrolled at the Institute: "I'm so grateful to my advisors and professors who have supported me throughout this process. Their recognition that this is a phenomenal professional development opportunity has allowed me to take my school work 'on the go' and relate it specifically to my current professional endeavors. Without their support, I wouldn't have been able to do both school work and partake in a full time international internship."
While reflecting on her internship experience, Braun said "My time in Senegal has been unbelievable, incredibly eye-opening, and inspired me to look more into federal law enforcement positions moving forward. While my previous internships at State were eye-opening in their own ways, my time with Diplomatic Security has been challenging, physically rigorous, and exceptionally rewarding. One day I'm at the range participating in firearms training and the next I'm writing a cable on operational security. The job of a Diplomatic Security Special Agent is so diverse and hands on, with a true sense of esprit de corps."
Braun previously served as the staff assistant to Ambassador Leaf at U.S. Embassy Abu Dhabi, United Arab Emirates (Summer '17) and as a WINS Fellow in the Office of Strategic Communications Outreach in the Bureau of International Security and Nonproliferation (Summer '16).
"I would encourage everyone who is eligible to apply for an internship with the U.S. Department of State, especially with the Diplomatic Security Service. I can't think of a more rewarding job than being a public servant to citizens of the United States."