Student Teams Develop Innovative Water Solutions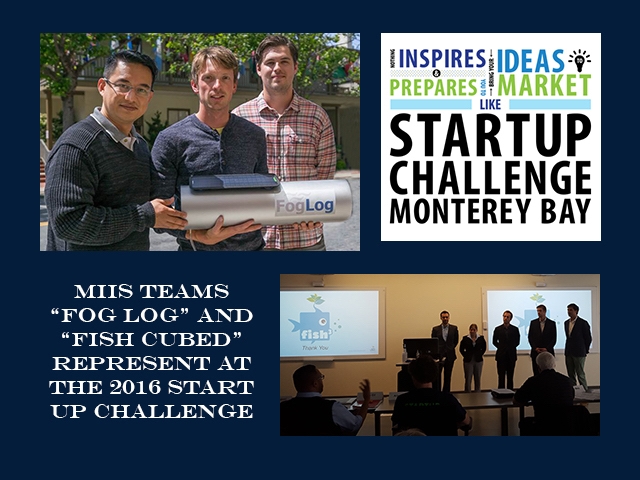 Two Middlebury Institute student teams were among 26 finalists in the annual Monterey Bay Startup Challenge held on Friday, May 6 at California State University Monterey Bay (CSUMB). Ninety teams participated in the initial round. Both teams began working on their ideas as part of a class project in a new course called "Green Business Feasibility Assessment" taught by international environmental policy professor Jeffrey Langholz. Given the theme of "sustainable water" for their projects, both teams came up with creations that could benefit local families and the global environment.
FogLog is a cylindrical household device that harvests and collects water from fog, that is perfectly suited for families who live in the "fog belt" between Monterey and Santa Cruz. The team, comprised of John Allan MBA/MAIEP '17, Galen Wangberg MAIEP '17, and Ron Go-Aco MAIEP '17, with support from Professor Langholz, seeks to provide an alternative source of water to address water scarcity. Shaped like a log, the product harvests water from fog common in coastal cities.
Fog harvesting technology was first developed for market in the 1980s, with mesh nets strung between two poles like volleyball nets. The fog hits the net and forms drops of water that drip into a container. The FogLog has two fans at each end pulling fog through the device, thereby increasing the amount of water collected. Energy efficiency is applied through a humidity sensor that turns the fans on and off depending on fog levels. Another feature of the device is a solar-powered battery that allows the fans to also run during the night. According to team member Go-Aco however, the "most important secret of the FogLog is what's inside the chamber," a proprietary water filtration system designed to capture the maximum amounts of water. He says the FogLog has been tested to harvest water 700 percent more efficiently than the older technology mesh nets that are still used around the world from Monterey to Mongolia. "Our goal is to be as efficient collecting water from fog as solar panels are collecting energy from sunlight," adds Langholz.
Fish Cubed is another student-designed device that uses a combination of aeroponics and aquaponics to efficiently grow food in your home. Picture something like a low-cost, low-maintenance refrigerator, but with live fish swimming around and organic produce growing inside. "It comes with the satisfaction of home gardening, without the pain of home gardening," Janna Ratzlaff explained. The product has the potential to help families have access to organic food, and according to team members the technology utilized can change the face of agriculture all over the world as aquaponics use 90% less water than traditional soil agriculture. What makes this version of family-style aquaponics unique is the compact design and affordable price point.
The Fish Cubed team, comprised of alumna Janna Ratzlaff MAIEP '15 and current students Hesham AlSaati MBA/MAIEP '17, Alex Kalish MAIEP '17, Bekah Cordell MAIEP '17, Sophia Longas MAIEP '17, Kenji Tabery MAIEP '16, and Jessica Anderson MAIEP '17 won "Best Start-Up Idea" award at the Salinas Valley Ag Tech Summit, hosted by Forbes, earlier this year. Both teams are continuing to develop their ideas and search for funding.