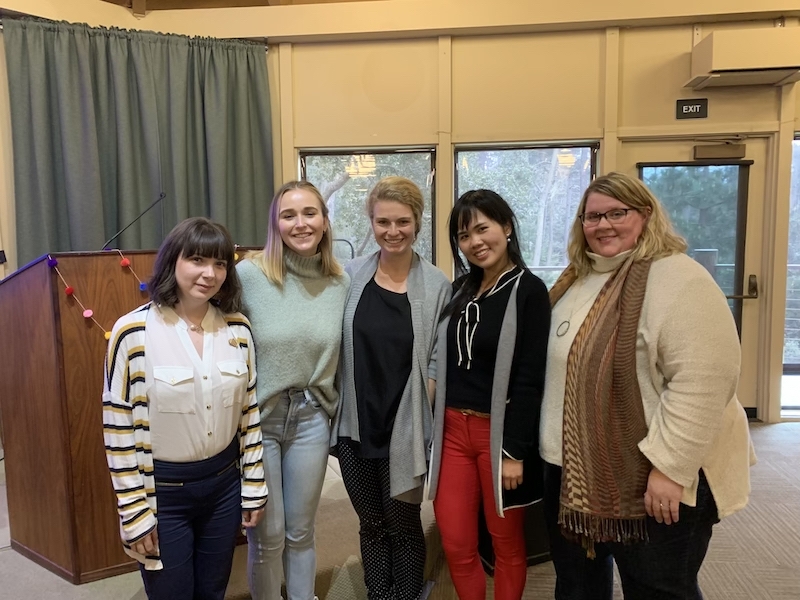 Four Middlebury Institute International Education Management students facilitated a pre-departure training session for Rotary Exchange Youth Program, putting some of the lessons they are learning in class to practice.
Rotary Youth Exchange Program is a program that sends U.S. high school students to spend time attending school abroad. Professor Paige Butler coordinated with Melissa Mears to bring in four International Education Management students, Sayre Weir MAIEM '20, Carisa Crittendon MAIEM '20, Linny Tran MAIEM '20, and Rachel Webber MAIEM '20, to support and lead part of the exchange program pre-departure orientation. Students were able to bring what they've learned during their time at MIIS and create an interactive, successful pre-departure orientation for these high school students from the Monterey Bay surrounding area.
"After participating in Dr. Paige Butler's Education Abroad course last fall, we had the chance to synthesize many of the pre-departure orientation best practices that we had learned about and design various elements of the students' training," Weir shares. "I believe that opportunities like this are mutually beneficial - they are both a great way to put our new skills to the test, and we get to interact and positively impact local students as they prepare for significant cultural transitions." 
"My experiences at the Institute and the IEM curriculum helped me realize how important intercultural competence is and how challenging it is to acquire 'competency,' Tran says, and adds that she was interested in the volunteer opportunity because she wanted to not only experience leading more workshops and orientations, but also to advocate for the significance of intercultural development in education abroad.
Country Coordinator for District 5230 Melissa Mears was appreciative to have Professor Butler and students join them for the pre-departure orientation. "Students not only received important and detailed direct instruction about things they should expect to encounter and adapt to during their 10-to-12 months abroad, but they also had plenty of opportunities for individual and group activities that simulated how they might feel while in their host country faced with various challenges. Each of them had different take-aways and impressions from the sessions, but all benefited from the training. With the invaluable training from MIIS we are confident they are better equipped to face the short-term and long-term ups and downs that will come their way. Thank you to everyone involved, we look forward to more collaborations in the future" said Mears.
Webber also commented on the mutual exchange between the Rotary students and the MIIS facilitators: "It was a great opportunity to work with Paige and my peers on something outside of the classroom where our skills actually impact students' lives. Seeing the students learn really re-enforced why I chose MIIS and makes me excited for my practicum to build upon this next semester." 
"My presentation on student emotional health and wellness abroad directly correlates with my coursework here at MIIS," Crittendon added. "Specifically, my class facilitation on emotional health in Paige's Education Abroad course last semester taught me a plethora of transferable skills for the profession and served as a catalyst for this presentation. Professor Butler's model of cultural transitions reshaped how I thought about the education abroad field and solidified my interest in student support services. I'm grateful to have been included in this partnership and for the chance to meet with such an engaging group of high school students as they prepare to embark on their year abroad."