Summer Intensive Language Program: Celebrating Accomplishments and Friendships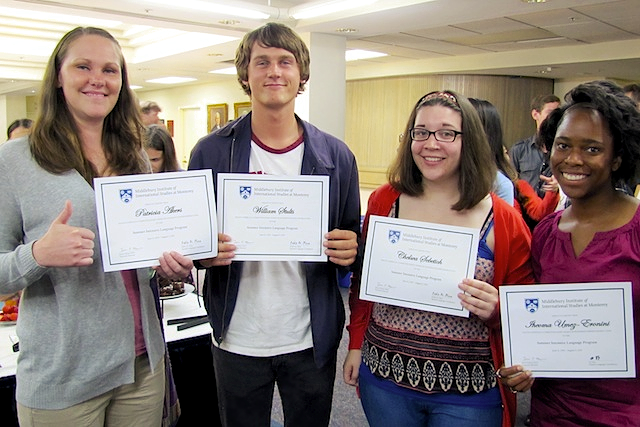 The eight-week Summer Intensive Language Program (SILP) at the Middlebury Institute is equivalent to studying a language for a full academic year. It is an intense and rewarding experience for students on many levels, as they make substantial gains in language proficiency and cultural knowledge while making new friends and joining a community of engaged language users that extends well beyond the program.
The 117 students who completed the 2015 program successfully were honored at a joyful August 5 ceremony that was full of camaraderie and deep laughter from those who understood the jokes made by faculty speaking to students in their target languages. Over the summer, students participated in a number of events designed to enhance their cultural understanding in relation to their language of study, such as participating in wine tasting in Spanish in Carmel Valley, attending a Russian Orthodox mass in Seaside, taking a guided tour of Point Lobos in French, learning about bubble tea in Chinese at a factory in San Francisco's Chinatown, or enjoying a special Arabic barbeque at the beach and participating in an Arabic "TED" style speaking event.
The Summer Intensive Language Program offers motivated foreign language students an intensive and supportive environment to gain a solid foundation or improve overall proficiency in a language. Students apply for the program independent of the Institute's other non-degree and degree programs, and all are welcome to apply.