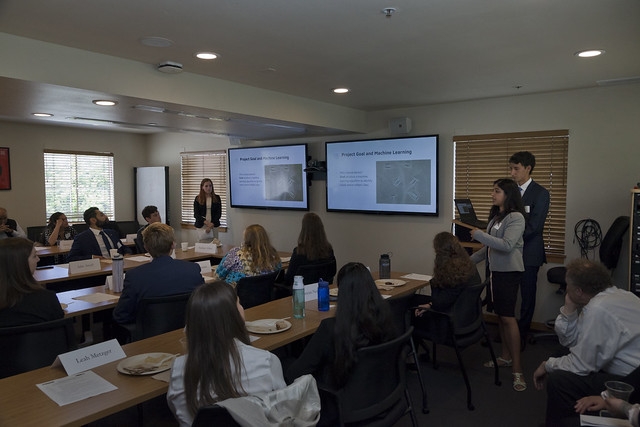 Four Middlebury College students were among the seventeen students from top universities in the James Martin Center for Nonproliferation Studies (CNS) 2019 Summer Undergraduate Internship Program.
 
The program provides promising undergraduate students the opportunity to study specialized nonproliferation issues from experts in the field. In addition to working closely with CNS experts, interns attend lecture series on topics relating to the spread and control of weapons of mass destruction, they also meet top international experts, and experience hands-on training with "new tools" for nonproliferation.
"Since its inception 20 years ago, the CNS Summer Undergraduate Nonproliferation Program has provided research, training, and publication opportunities to many exceptional students," says CNS Founding Director William Potter. "Each year approximately one dozen undergraduates come to the Monterey campus from among the very best colleges and universities in the United States and abroad—Cornell, Yale, Georgetown, Brown, and, of course Middlebury College, among others. This past summer four superb Middlebury students participated in the program."
CNS Summer Undergraduate Internship Program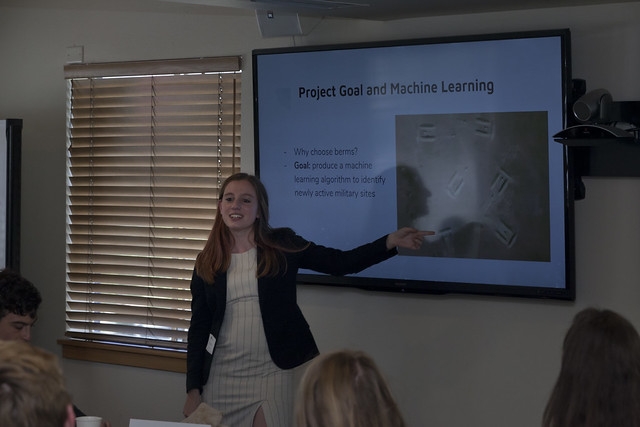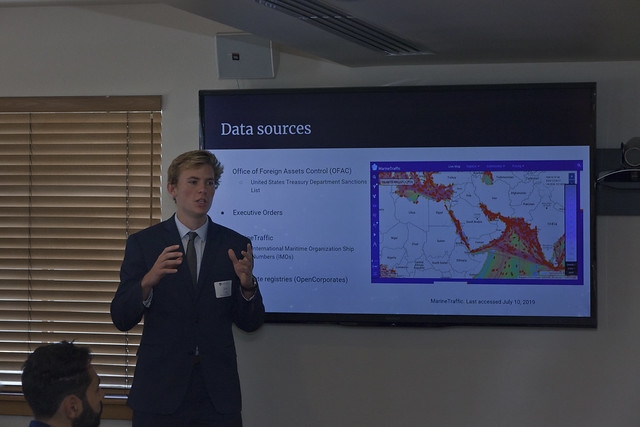 Adin Insoft is a senior at Middlebury College, majoring in Physics and minoring in Political Science and Math. This combination of interests led him to work with the Scientist-in-Residence Dr. Ferenc Dalnoki-Veress on studying US 3-D printing companies and their potential duel use for WMDs. Additionally, he worked with the Research Associate Grace Liu MANPTS  to help collect historical satellite images of North Korean nuclear facilities. Under the guidance of these two researchers, he is developing a paper on creating a more systematic and rigorous way to use remote sensing thermal imagining to verify the reprocessing timeline of the North Korea Yongbyon Radiochemical Laboratory. "This summer was full of exploration both during the workday as well as the fun Monterey area," Insoft shares.
Arielle Landau is a joint major in Environmental Studies and Sociology-Anthropology and a minor in Computer Science. She first came to the field of non-proliferation as a participant in the CNS organized Critical Issues Forum during her junior year of high school. At CNS, Landau returned to her non-proliferation interests while combining them with her new interests in environmental justice and computer science. "Allowing for independent research, the internship enabled me to study environmental justice and sociology within the context of non-proliferation," Landau says. "I was also able to build upon the technical expertise available CNS to map potential population exposure to radiation from past nuclear tests." She also started a podcast with two fellow interns, Sam Barnes and Grace Kier, about young women working in non-proliferation titled Big Nuke Energy.
Leah Metzger is a student of International and Global Studies and Linguistics. "What stood out to me most about this internship was how invested the program was in my own learning and education. I learned a great deal about nonproliferation and disarmament issues from a number of different researchers, experts, and even my fellow interns."Drawing on her experiences with intercultural education programs, she conducted research on how strategies used in intercultural education could be applied to disarmament education initiatives. Metzger also helped research content for the Institute's Non-Aligned Movement Disarmament Database.  Her favorite part of the internship was collaborating with and learning from the other interns, staff members, and Masters students. "Finally, I loved spending the summer in Monterey! It was amazing to get to see the ocean every day."
Jess Cohen is a student of International Politics and Economics. Cohen had not specifically studied nonproliferation in much depth, but his interest in international relations encouraged him to apply for the summer internship. He engaged with the other interns and the CNS experts about interesting subjects such as the recent developments between the United States and the Islamic Republic of Iran. Also, Jess enjoyed learning about the more technical aspects of this field. "Many interns this year came into the program with very limited backgrounds in nonproliferation," he remarks, "but through all the lectures from experts in the field we left with the knowledge to engage in very nuanced discussions and debates about both the political and technical sides of nuclear weapons. While investigating sanctioned Iranian crude oil exports for his independent project, Cohen specifically worked collecting information about the Soviet/Russian anti-ballistic missile defense systems and their biological weapons program.
For more than a decade, Sarah and Tom Pattison have been stalwart supporters and friends of the James Martin Center for Nonproliferation Studies (CNS) at the Middlebury Institute. They are the major supporters of the Summer Undergraduate Nonproliferation Program.
Eleven students from top-tier universities will take part in the James Martin Center for Nonproliferation Studies' 2013 Summer Undergraduate Internship in Nonproliferation Studies.
Six Middlebury Institute graduate students partnered this summer with undergraduate students from Middlebury College in the Middlebury Social Impact Corps, working with organizations in Peru, Monterey, and The Bahamas.