Summer Undergraduate Nonproliferation Program Brings 11 Outstanding Students to Monterey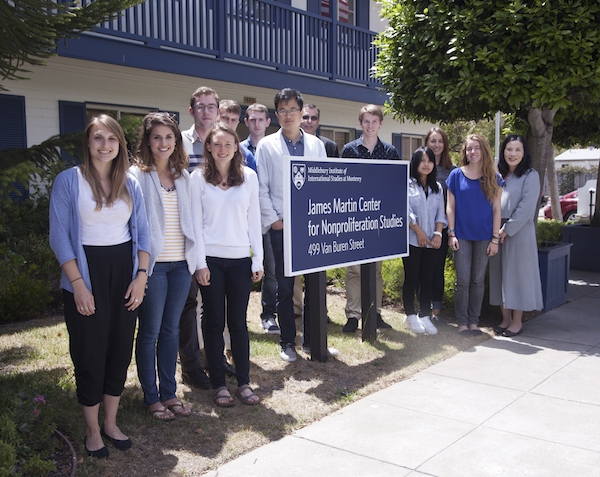 The bustling campus of the Middlebury Institute of International Studies at Monterey may quiet down a bit during the summer, but it remains full of energy and opportunity for students eager to learn. One such opportunity is offered by the Institute's James Martin Center for Nonproliferation Studies (CNS), which furthers its mission—to combat the spread of weapons of mass destruction by educating the next generation of nonproliferation experts—with a unique summer internship opportunity for undergraduate students.
This summer, CNS welcomed a very promising group including nine undergraduate interns and two Davis United World College (UWC) fellows to the center's Summer Undergraduate Nonproliferation Program. All were selected through a very competitive application process. The interns are from Middlebury College, Brown University, Colby College, Emory University, Duke University, University of California Davis, University of Georgia, University of Saint Andrews in Scotland, and Dublin City University in Ireland, while the two Davis UWC fellows are from Cornell University and Agnes Scott College.
The summer undergraduate nonproliferation program combines on-the-job training with a comprehensive nonproliferation lecture series. Participants conduct research on issues related to the spread and control of weapons of mass destruction (WMD), including nuclear, chemical and biological weapons, and on regional security issues in the former Soviet Union, Eurasia, East Asia, South Asia, and the Middle East. In addition to working on ongoing projects at CNS, students develop their own research projects under the guidance of senior Institute faculty and CNS staff.
The center started the summer undergraduate internship program in 1997, and the Davis UWC Fellowship in Nonproliferation Studies was established in 2006. From the inception of each program, interns and Davis UWC fellows have come from a wide variety of majors, including biology, international relations, East Asian studies, nuclear engineering, mathematics, political science, peace studies, computer science, and geology, and from a diverse group of colleges and universities throughout the U.S. The program also sometimes accepts highly qualified international students.
This year, CNS again welcomed Dr. Tariq Rauf, a former high-ranking official at the International Atomic Energy Agency with extensive experience in the nonproliferation and disarmament field, as a special lecturer in the program. His lecture series thoroughly covers international nonproliferation and disarmament regimes, and the challenges facing them. The duration of the internship and fellowship is two to three months between early June and late August.
This year's internship program is funded by the John D. and Catherine T. MacArthur Foundation and Tom and Sarah Pattison Fund. The Davis UWC Fellowship Program is funded by the Kathryn Davis Fellows for Peace. The Summer Undergraduate Nonproliferation Program complements the Institute's Master of Arts in Nonproliferation and Terrorism Studies program for graduate students.