Undergraduate Interns Tackle Nonproliferation Issues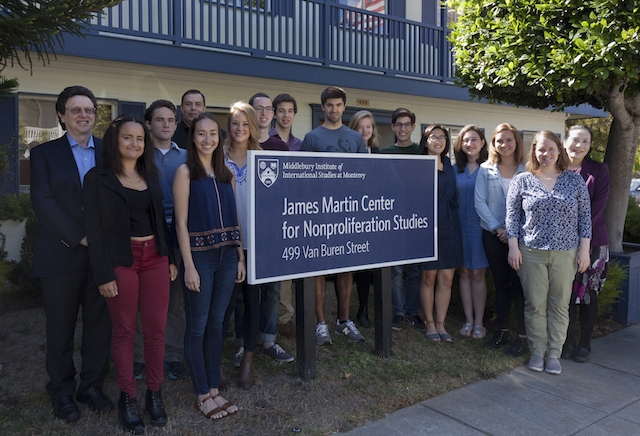 Thirteen undergraduates from top U.S. universities will take part in the Summer Undergraduate Nonproliferation Program at the Middlebury Institute of International Studies at Monterey's James Martin Center for Nonproliferation Studies (CNS). The program aims to further the CNS mission—combating the spread of weapons of mass destruction by educating the next generation of nonproliferation experts—by offering an intensive introduction to key nonproliferation topics and research.
The 2016 group includes eleven undergraduate interns and two Davis United World College (UWC) fellows. Each was selected through a rigorous and competitive application process, and participants hail from Middlebury College, Brown University, Harvard University, Stanford University, University of Georgia, Georgetown University, Pomona College, Bryn Mawr College, and Emory University.
Participating students receive invaluable on-the-job training, work closely with CNS experts, and attend an engaging lecture series on issues relating to the spread and control of weapons of mass destruction (WMD) including nuclear, chemical, and biological weapons, and regional nonproliferation issues in Eurasia, East Asia, South Asia, and the Middle East. Lectures focus on highly relevant topics such as nuclear security, current challenges in nuclear disarmament, export controls, and open source tools for nonproliferation. Additionally, students undertake their own research projects under the guidance of CNS experts.
CNS started the Summer Undergraduate Internship Program in 1997, and the Davis UWC Fellowship in Nonproliferation Studies was established in 2006. Since then, interns and Davis UWC fellows have come from a wide variety of majors, from biology and peace studies to nuclear engineering and economics. The current cohort is from a diverse group of colleges and universities throughout the United States, and the program also accepts highly qualified international students.
In addition to CNS experts, students also have the opportunity to meet with top international experts and leaders in the field, including Dr. Lassina Zerbo, the executive secretary of the Comprehensive Nuclear-Test-Ban-Treaty Organization, who will travel to Monterey for the sole purpose of meeting with these young leaders. Dr. Tariq Rauf, director of the Disarmament, Arms Control and Non-proliferation Programme of the Stockholm International Peace Research Institute (SIPRI), will also join program participants once again to share some of his extensive experience in the nonproliferation and disarmament field.
The program spans from early June through late August, and is funded by the John D. and Catherine T. MacArthur Foundation and Tom and Sarah Pattison Fund. The three summer interns from Middlebury College are supported by the Earle Family Fund for International Education. The Davis UWC Fellowship Program is funded by the Kathryn Davis Fellows for Peace.
More information is available on the Summer Undergraduate Nonproliferation Program website.