U.S.-Russia Relations Never Worse, Says Russian Journalist Vladimir Pozner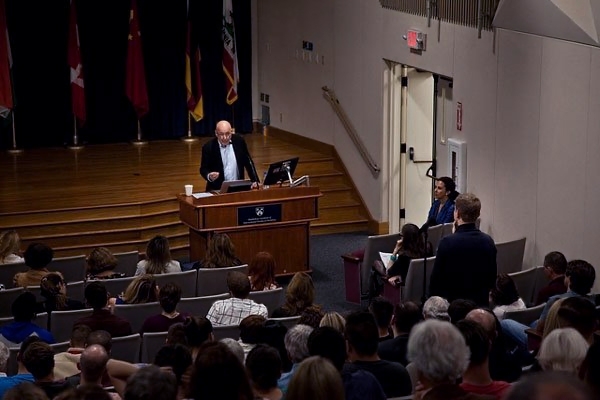 The state of U.S.-Russia relations is as bad as it has ever been, if not worse, according to veteran journalist, bestselling author, and documentary film maker Vladimir Pozner, who returned to the Middlebury Institute for a series of seminars. He held two seminars for students that were also open to the public, one in Russian and one in English. Pozner also spoke to a group of students who have been studying the modern-day Russian Federation through a series of his interviews with thought leaders.
The Pozner visit is part of the Graduate Initiative in Russian Studies (GIRS) Visiting Experts Program. He gave the first open lecture titled "How to Understand the Russian Soul," in Russian and he spoke in English on "How U.S. Policy Contributed to the Rise of President Vladimir Putin."
"From the American side, you don't need to like Russian policy and you don't need to justify it. Nevertheless, Russia is an important country that we need to understand." In his lectures, Pozner emphasized the importance of understanding more than just the current politics, but also to know the language, the history and the culture, especially the literature. Understanding humor is also critical; in his Russian lecture he told a joke and then said that if you were not laughing, you probably still had some studying to do.
Pozner talked about how history has shaped Russians' sense of their place in the world and some of the contradictions inherent in that worldview. In his view the relationship between Russia and the U.S. is as troubled as it has ever been. During the time of the Soviet Union, the conflict was ideological and propaganda was aimed at Wall Street and the American government. He said that the average Soviet was not anti-American with regard to the people. At the same time, people in the U.S. might have been anti-Communist, but not anti-Russian. In his view that is not true today and that is cause for concern.
GIRS is hosting Simon Saradzhyan, founding director of the Russia Matters Project at Harvard Kennedy School's Belfer Center. Mr. Saradzhyan will present, "Measuring National Power: Is Vladimir Putin's Russia in Decline and Compared to Whom?" The lecture will be in English.