BIPOC Voices at MIIS Series
The BIPOC Voices at MIIS (Voices) initiative is a collaboration between the Middlebury Institute's Student Council, Student Services, Sustainability Council, Vice President's Office, and the Library.
The Student Council Diversity Equity and Inclusion (DEI) Committee was awarded $25,000 in spring 2022 from the Provost's Academic Council (PAC) for a new initiative called: BIPOC Voices at MIIS. 
This project is a milestone in students' continued efforts to create lasting institutional change at MIIS and represents our long-term commitment to bringing more diverse voices to our campus. 
Through this strategic initiative, three BIPOC speakers will be invited to MIIS each semester to share their expertise on a wide range of topics. The series will emphasize local speakers, student-generated topics, a networking component, and hybrid programming. Speakers will be offered honoraria for their time and perspective, as well as the ability to archive recordings of the series in a dedicated library collection for future reference. Upon successfully launching and implementing the series over an initial two years, the PAC will consider extending the program for an additional two years. 
Desired Impact
Create dialogue around non-white, non-American paradigms and perspectives that reflect MIIS' diverse student population, and broaden our collective knowledge base on issues, such as climate change, sustainability and education
Increase student awareness of and involvement with BIPOC-led organizations and initiatives in their field(s) of study
Create a sustainable video archive of lectures, panels and Q&As with BIPOC experts on topics of relevance to the MIIS community
Scheduled Speakers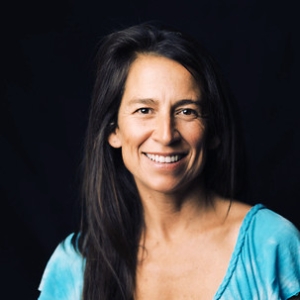 Dionne Ybarra
Youth & Marginalized People Empowerment through a Passion for the Ocean
Dionne Ybarra is a Mexican American woman born and raised in a marginalized neighborhood  in East Salinas, daughter of a migrant farm worker and Gold Star Family Member. She is married  and the mother of four sons and one adopted daughter and is a 27-year resident of Pacific  Grove. She is the Founding Director of The Wahine Project a nonprofit organization whose  mission is to eliminate the barriers that prevent a diversity of girls from a relationship with the ocean and with one another. She is the owner of two local businesses that integrate ocean conservation, manufacturing and retail spaces. Currently Dionne is the Chairperson of the Civil Rights Commission of Monterey County. Dionne will complete her Masters in Social Work from Tulane University in August of 2023. Dionne is the co-author of the recently published book, Step Up to Run.
October 5, 2022 at 6:30pm in McGowan 102 and Online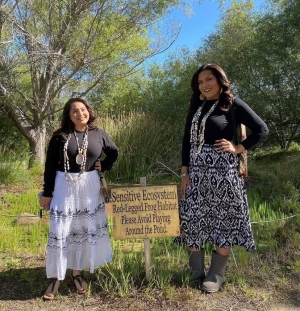 The Ohlone Sisters (Costanoan Rumsen Carmel Tribe)
Social Justice Through the Eyes of the Native
The Ohlone Sisters Carla Marie and Desiree Munoz are members of the Costanoan Rumsen Carmel tribe and represent Rumsen ohlone people. Carla Marie and Desiree are facilitators of the past and present ohlone knowledge. They focus on youth engagement, land use, cultural knowledge sharing, and community collaboration in relations to social justice.
October 24, 5:00pm Pacific, Irvine Auditorium, McCone Building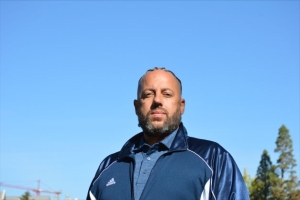 Jody Lykes
Making Noise on Campus: A Scholarly Review of Hip Hop Studies
I'm a Hip Hop scholar. I was raised between Sunnyside, WA and Santa Maria, CA. I received my Bachelors from Brigham Young University, Provo in Political Science with a Spanish minor. I earned my Masters from the University of Nevada, Reno in Educational Leadership. I earned my Ph.D. from the University of Nevada, Reno in Education, Diversity & Equity. Before I came to the University I worked for a few years at Truckee Meadows Community College. I teach several diversity courses on campus. When I'm not on campus, I'm probably eating with my family at a local casino. I'm a fan of the Seahawks, Sixers and Black Stars. I love learning about Nevada Black history. Nevada students are my heart.
November 17, 2022 at 5:30pm (date subject to change), in person and online