At the Middlebury Institute, we deliver courses in different modes to meet the needs of in-person and online students. Here's a guide to the four instruction modes you will see on the course schedule, including definitions and who may register for each mode.
Video Guide
Watch this video for a short overview of what you can expect in the different types of classes.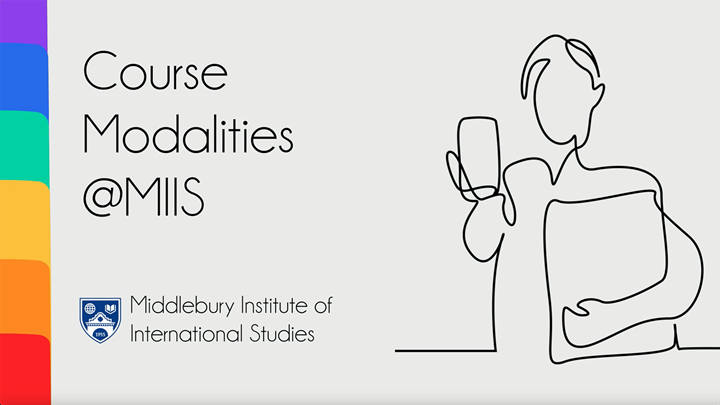 Definitions
Instruction Mode
Definition
Who May Register
Days/Times? (Banner)
Room (Banner)
In Person
A course that is completely in-person. 100% of the instructional content is delivered in a physical location. A course may use a learning management system, electronic reading assignments, or online discussions to supplement learning.
On-campus students only
Yes
Assigned campus room
Blended Synchronous
(Blended)
A course where on-campus and off-campus students are combined in one learning environment at a scheduled class time. Off-campus students participate in face-to-face classes by means of rich-media synchronous technologies such as Zoom. Some coursework and interactions may be offered online only so that students are interacting both in live and asynchronous ways.
On-campus and off-campus students
Yes
Assigned campus room

Hyflex

A course in which students can choose their preferred mode of engagement week-to-week and class-to-class: in-person on campus, online via live class sessions, or asynchronous. Courses are designed to support equitable interaction with course content, peers, and the instructor, regardless of the mode of engagement chosen by the student.
On-campus and off-campus students
Yes
Assigned campus room
Scheduled Online
A fully online course that has required scheduled live class sessions, typically via Zoom
On-campus and off-campus students
Yes
Online
Asynchronous Online
A fully online course that has no required scheduled live class sessions, though optional live sessions may be offered. Students can complete coursework asynchronously (no required live sessions) but are expected to progress through the course according to an instructor-determined schedule.
On-campus and off-campus students
No
Online
Notes
A few notes on course instruction modes:
"Blended synchronous" or "Blended" is what we formerly called "hybrid".
Off-campus students are designated with the RMT location code in Banner.
Scheduled online courses have required live class sessions at set days and times.
Asynchronous online courses have no required live sessions. There may be optional live sessions throughout the course.
International Students
International students who enter the U.S. to begin their F-1 or J-1 status must enroll in a minimum of 9 credits of in-person courses toward their minimum 12-credit, full-time course load to maintain their status under standard regulatory guidance from the U.S. government. Blended synchronous and hyflex courses, if attended in person, will count toward this 9-credit in-person requirement. International students may enroll in scheduled online and asynchronous online courses beyond the minimum 9 credits that require in-person attendance (up to or beyond the 12-credit full-time enrollment).