The Michael Donnelly CTEC Research Fellowship
The Michael Donnelly Fellowship, named in honor of our late friend and colleague, carries forward his legacy by supporting two underrepresented MIIS students each year with demonstrated financial need through a funded research position. 

The Fellowship enables promising researchers to garner real-world experience in extremism research that is centered on tangible approaches to preventing and countering extremism. If you would like to donate to help support this initiative, our donation page is here. When you donate, please specify in the comments section of the donation form that you would like your donation to go to The Michael Donnelly Fellowship. Thank you for your support!
Each semester, CTEC seeks a highly motivated, qualified, and enthusiastic Middlebury Institute of International Studies graduate candidate for the Michael Donnelly CTEC Research Fellowship. In contrast to CTEC research assistant positions, this fellow is not a CTEC employee, and he/she/they will have significant autonomy. With extensive help from CTEC staff and external experts, the fellow will complete substantial research within CTEC's major research areas either in conjunction with an established project or of their own design. The fellow will receive mentorship in research design, execution, and writing from CTEC staff. Final reports or papers developed by Michael Donnelly Fellows will be considered either for publishing through CTEC or as part of a larger project that will be published elsewhere. While publication of fellows' research cannot be guaranteed, this fellowship is designed to support and facilitate the completion of publication-ready research.
The fellow will also have the opportunity to work on recurring CTEC initiatives, such as public outreach through social media and contributions to future short-form publications like newsletters.
A new fellow is selected each semester. The fellowship comes with a one-time $6,000 stipend paid in the middle of the semester. Fellows will commit to work an average of 15 hours per week on their research. Applicants for the spring have the option to start earlier and work full-time during Winter Term, which comes with an additional $3,000 stipend paid at the end of the term.
Qualifications: 
Underrepresented student with demonstrated financial need.
Interest in extremism and terrorism. 
Strong independent worker with a desire to make a significant contribution to an ongoing research project or to design and implement a project from scratch.
Ability to complete in-depth foreign-language research is desirable.
Experience with mixed-methods analysis (e.g. data analysis) is a plus.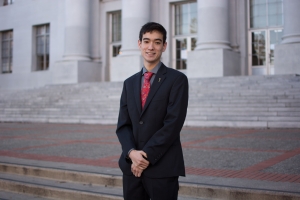 CTEC Michael Donnelly Fellow, Spring 2023 
Kojin Glick is a Master's candidate in Nonproliferation and Terrorism Studies at the Middlebury  Institute of International Studies. His interests align traditional security studies with data analytics with a particular focus on emerging technologies, namely the use of new media technologies by threat actors. He is also pursuing a specialization in financial studies to augment his technical approach to security studies. Before coming to MIIS and joining the Center on Terrorism, Extremism, and Counterterrorism (CTEC), Kojin worked in privacy tech leading day to day operations, and continues to maintain a small web development firm, called Moonstripe Design. Kojin graduated from the University of California, Berkeley with a bachelor's degree in Political Science, another bachelor's degree in Media Studies, and a professional certificate in full-stack web development.
During the Spring semester at MIIS, Kojin will be researching new methods of visualizing relationships using the Telegram API to identify potential threat actors in various extremist spaces.