The Wagner Group's Rebellion and the Drastic Evolution of its Social Media Since June 24th, 2023
Since early 2022, the Wagner Group has been no stranger to international headlines, especially of a dramatic bent. From Yevgeny Prigozhin, aka "Putin's chef," being revealed as the group's leader, to an explosion in membership as the group recruited prison convicts to war, to a surprise rebellion against the Russian military leadership that ended in an deal with Belarus for Prigozhin's exile, to Putin's public admission that the state fully funded Wagner's activities—the Wagner Group has made a lasting, if chaotic, name for itself. Its operations have been well-financed, both by Russia and by money laundering via natural resource enterprises abroad. The recent deluge of Wagner headlines has been accompanied by exponential shifts in its social media following on platforms VK1 and Telegram—in both positive and negative growth directions. It is still too early to know exactly how Prigozhin and the Wagner Group will leverage these social media tides, but a preliminary data analysis is enough to hint that we should continue to watch these channels closely for new pivots in the Wagner Group's physical, political, and financial trajectories. 
The Wagner Group: A Brief Overview of Activities and Finances 
Background 
The Wagner Group (also known as PMC Wagner, or Группа Вагнера in Russian) is a formerly Russian-based private military company (PMC) that conducts paramilitary activities in various regions of the world—most notably in Ukraine, Mali, Libya, Central African Republic, South Sudan, and Syria. Until recently, it was headquartered in St. Petersburg, Russia. The group was founded in 2014 to provide military aid to the Russian separatist forces in the Donbas War in Ukraine. It was frequently described as a cohort of mercenaries or a proxy for Putin, although the degree of support provided from the Russian government to Wagner was never officially disclosed until June 27th, 2023. The Wagner Group became especially well-known following the 2022 Russian invasion of Ukraine, and there has recently been increased international debate over whether or not they are a terrorist organization. Its membership grew rapidly from just a few thousand prior to 2022 to around 50,000 members as Prigozhin recruited criminal convicts to fight in exchange for freedom, and later, official combat veteran status and benefits. The group is owned by Russian oligarch Yevgeny Prigozhin, previously reported to have a close relationship with Putin, who has been called "Putin's chef" for owning restaurants and catering businesses that serviced the Kremlin. Until September 2022, however, Prigozhin publicly denied being associated with Wagner. Following a brief premeditated mutiny against the Russian Ministry of Defense (MoD) from June 23rd-24th, 2023, Prigozhin and Wagner members who chose not to become Russian contract soldiers were exiled to Belarus on a deal arranged by Belarusian President Alexander Lukashenko. 
Claims of Terrorism 
Shortly after the Russian invasion of Ukraine on February 24th, 2022, the Wagner Group was officially sanctioned by Canada, the United Kingdom, Australia, Japan, and New Zealand. On January 23rd, 2023, the United States designated the group as a "significant transnational criminal organization," which subsequently called for harsher sanctions. The Wagner Group is officially designated as a terrorist organization in Estonia, France, Lithuania, and, most recently, the OSCE (Organization for Security and Cooperation in Europe) Parliamentary Assembly. 
Financing 
A cursory overlook of the Wagner Group's funding reveals that they are more financially driven than ideologically driven. In order to maintain heavy funding and evade sanctions, Prigozhin was using his own construction and catering contacts to help fund Wagner's paramilitary activities, and has crafted vast international money laundering networks tied to natural resource industries across the world, mostly in Africa and the Middle East. A recent report has summarized activities by the group in the Central African Republic (CAR), the Congo Basin, Sudan, and Syria. In CAR, Wagner has had control of an artisanal gold mine for three years, which it has worked to build into a larger, profitable industry with the help of Prigozhin's Madagascar-registered entity Midas Resources. Wagner then expanded its network of mining ventures in CAR over the past year, "where its mining profits reportedly reached $1 billion." Prigozhin also owns and controls Meroe Gold, a Sudanese gold mining company that has been sanctioned by the United States. The report clarifies that "Portable commodities and precious gems, such as gold and diamonds, are ideal ways of payment for Wagner since they can be laundered easily. Trading these gems has been done by an obscure company registered in St. Petersburg called RN Trading, which managed to remain unsanctioned." In an inspection of shipments to Russia from Sudan last year, officials found that boxes of "cookies" were actually filled with gold. As of June 27th, 2023, Midas Resources and a handful of other companies directly supporting Wagner's mining operations have been sanctioned by the US Treasury. 
Beyond mining, Wagner has a 30-year forestry permit in the Congo Basin, which is "one of the most considerable swathes of undeveloped rainforest in the world" and could generate a potential revenue of $890 million. In Syria, Prigozhin's shell company EvroPolis generated $162 million in oil and gas revenue in 2017 alone. The Wagner Group was gifted those natural resource fields in exchange for its mercenary activity in Syria. A different report shows that Wagner has further investment contracts in Venezuela, Libya, and Madagascar as well. 
It was widely speculated for years that he was also quietly financed by Putin. Clear evidence for monetary funding from the Russian government was nonetheless incredibly difficult to obtain, and was described by Politico as "scant." However, on June 27th, 2023, Putin finally revealed that "The maintenance of the entire Wagner Group was fully provided for by the state… From the Ministry of Defense, from the state budget, we fully financed this group." The total sum paid to the Wagner Group from 2022-2023 alone was 86 billion roubles (almost $1 billion). This statement is currently difficult to completely confirm, as it may be part of an "information campaign aimed at re-establishing Putin's authority and discrediting Yevgeny Prigozhin" after Prigozhin claimed that the Wagner Group operated independently of the Kremlin and did not receive state funding.
A collection of intelligence suggests that Russia has supplied not just financial support, but also material support and training to the Wagner Group. According to one report, the Ukrainian Security Service (SBU) claims that the Russian government would arm Wagner's fighters at zero cost (supported by footage of the mercenaries using armored vehicles specifically reserved for the Russian military), and that the the Main Directorate of the General Staff of the Armed Forces of the Russian Federation (GRU) has trained and supported Wagner contractors (also evidenced by intercepted phone calls).
Prior to the rebellion, the Wagner Group has excelled at keeping its financial and material support hidden, and has been successful in gaining funds from natural resource industries acquired through providing services in other countries. With a loss of funding from the Russian government and sanctions imposed on their natural resource entities, it remains to be seen how Prigozhin will leverage his political power, connections, and social media to ensure Wagner's continued survival. 
The Wagner Group's Insurrection in June 2023 
Tensions Between Yevgeny Prigozhin and the Russian MoD 
The success of Prigozhin's construction and catering companies is largely attributed to his favor with Putin in recent years. Prior to Putin's admission of full financial support, evidence of this connection existed only in pieces, tied together by scraps of intelligence from often anonymous sources close to the Russian administration. According to one report, Prigozhin supposedly "diverted significant revenue from his construction and catering contracts to establish Wagner." Another source reports, "Russian military leaders reportedly got the idea in 2010 to create a mercenary group they could control. The Joint Staff tapped catering oligarch Yevgeny Prigozhin to manage the operation using money earned from lucrative government contracts to supply the armed forces with food." 
However, tensions still existed under these conditions, as Prigozhin allegedly criticized Defense Minister Sergei Shoigu's "outdated methods" in Syria, and Shoigu criticized Prigozhin's catering service for the Russian troops. Shoigu has been Russia's Defense Minister since 2012, and has been labeled as a member of Putin's "inner circle" who has accompanied him on hunting and fishing trips to Siberia, and who also controls the "narrative" of Russia's ideology. He has served longer than any other chief of staff since the Soviet Era, and Putin reportedly considers Shoigu a close confidant.
During the Battle of Bakhmut, tensions between Prigozhin and Shoigu reached a new high. Prigozhin claimed that Wagner was not being supplied with enough ammunition, and that the Russian military was assaulting his members. As a result, he blamed Shoigu and Chief of the General Staff Valery Gerasimov for the deaths of over 10,000 troops. On June 10th, the MoD announced a new order that all mercenary groups fighting in Ukraine must have official contracts with the MoD before July 1st. Putin backed this order, stating that such an action would legalize the actions of PMCs – in the case of Wagner, the group had enormous state funding but no legal authority. Prigozhin refused to sign a contract, as doing so would put him under the direct management of Shoigu, a person whom he saw as incompetent. According to intelligence collected by US officials, Prigozhin's decision to plan a rebellion appears to have taken place shortly after the MoD's contract order on June 10th. 
Intelligence and Premature Initiation 
For weeks, US intelligence agencies watched Wagner's activities closely, silently gathering information about the approaching insurrection that was kept top secret. They observed Wagner troops gathering near the Russian border and stockpiling equipment and ammunition. Further information about the timing and location of the rebellion was gleaned through satellite analysis and intercepted communications. Russian General Sergey Surovikin and at least 30 other Russian officials knew about the upcoming mutiny before it started, as they were found to have secret VIP member registrations with Wagner. 
The Russian Federal Security Service (FSB) discovered Wagner's rebellion plan two days before it was scheduled to take place. Prigozhin's targets, Shoigu and Gerasimov, were scheduled to visit a southern region of Russia close to the Ukrainian border. There, Prigozhin planned to kidnap both senior MoD officials, likely with some help from individuals in the armed forces. The discovery of the planned Wagner mutiny caused the group to initiate a premature rebellion that would ultimately fail a day and a half later. 
Capturing Rostov-on-Don and Marching Toward Moscow 
Prigozhin declared the start of the insurrection against the MoD on the evening of June 23rd, around 9pm and began a "march of justice" toward Rostov-on-Don, a Russian city near the Ukrainian border. There, he captured and occupied the city with very little resistance early in the morning, ordering a citywide shutdown that affected businesses, education, and graduation ceremonies. At this time, the train stations, highway exits, and markets experienced huge jams as people tried to either leave or buy large quantities of essential items to subsist during what might turn into a prolonged occupation. Other  people who supported Prigozhin stayed behind and gathered in the city center to talk to the Wagnerites or even take selfies.
A separate convoy headed toward Moscow while Prigozhin stayed in Rostov-on-Don and spoke with leadership at the local military headquarters. The convoy to Moscow encountered "little pushback" as it crossed through Voronezh Oblast,  located halfway between Rostov-on-Don and Moscow. The Air Force tried to intercept the convoy outside Voronezh, but they were unsuccessful, and 13 military fighters were killed on the Russian side.
Lukashenko's Intervention 
The rebellion ended abruptly after Prigozhin made a deal with President Lukashenko to withdraw his troops and go to Belarus, and the Wagnerites withdrew from Rostov-on-Don. According to a Telegram post, Chechen troops arrived later in the day on behalf of the Russian MoD to counter the Wagner forces, but instead were sent to the Ukrainian frontlines since Wagner members had already left Rostov-on-Don. 
International Response 
The Wagner mutiny sparked immediate international attention, discussion, and action across the world. In a video address, Ukrainian President Volodymyr Zelenskiy declared, "Today the world can see that the masters of Russia control nothing. And that means nothing. Simply complete chaos. An absence of any predictability." In the United States, President Joe Biden told a reporter that Putin has "absolutely" been weakened by the Wagner mutiny. The Office of the Turkish President Tayyip Erdogan said that the president had spoken to Putin by phone and emphasized "the importance of acting with common sense," and that "we, as Turkey, are ready to do our part to resolve what is going on in a peaceful and calm manner as soon as possible." The British Defense Ministry released a statement that "This represents the most significant challenge to the Russian state in recent times." The Belarus Security Council described the internal conflicts in Russia as "a gift to the collective West," and nearby nations such as Latvia, Estonia, and Poland released statements about vigilance to their own border security. 
Wagner Group's Social Media Platforms Before and After the Insurrection 
Immediately following rebellion, The Federal Service for Supervision of Communications, Information Technology and Mass Media, abbreviated as Roskomnadzor, shut down all of the Wagner Group's primary channels on VK. Among the blocked accounts were profiles with VK usernames @orchestrwagnera, @pmcwagnergroup2022, @chvk.vaqner, @chvk_vagner, and @pmc_2022. One channel still remains active on the platform. It appears that this channel was created on April 13th, 2023, under a different name, and then changed its name to reflect affiliation with the Wagner Group on June 25th, 2023, immediately following the rebellion and Roskomnadzor blocks.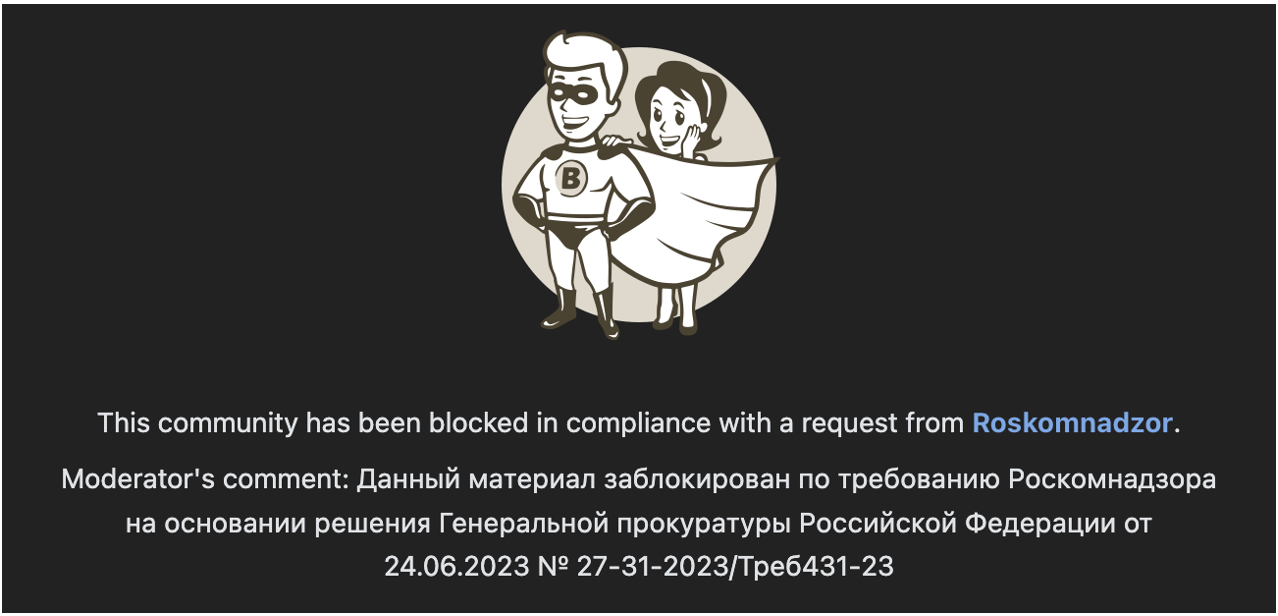 Prigozhin and the Wagner Group remain active on Telegram. Telegram is a heavily-encrypted messaging service that also includes features such as channel creation, file sharing, and voice messaging. It was created by the original founders of VK and is officially registered in the British Virgin Islands and Dubai, UAE. Since the platform is not based in Russia like VK, the Russian government does not have the authority to block channels at will. 
Wagner Group's primary channel posts relevant war updates pertaining to the group's interests as well as recruiting bulletins. Even after the mutiny ended, Wagner's Telegram channel continued to actively recruit with new bulletins almost daily. This channel was created on June 24th, 2022, (coincidentally, exactly one year before the rebellion) and has seen a rollercoaster of following and unfollowing in the two weeks after the rebellion. The week before its rebellion, the group's following remained steadily within the 153,000's range of subscribers. On June 23rd, the day the mutiny was prematurely initiated, Wagner's Telegram gained more than 5,000 followers. On June 24th, the day the rebellion ended unsuccessfully, they gained more than 81,000 followers, rocketing them past 200,000 followers. The following continued to grow by the thousands over the next two days. On June 27th, the day that President Lukashenko confirmed the arrival of Prigozhin and Wagner members in Belarus, the group's popularity started to plummet, and they then began losing followers by the thousands. On July 1st, when President Lukashenko asked Wagner members to train his military, the group saw a net gain of around 1,000 followers, but after that, its popularity has continued to decline by hundreds each day. This erratic pattern seems to correspond to Wagner's rapid shifts from offensive to defensive over the course of just days.
Prigozhin and Wagner are also closely affiliated with a Telegram channel that is "believed to be run by a Wagner member that frequently posts about events on the frontline in Ukraine." This channel was created on October 17th, 2019, and has seen some similarities to Wagner's primary channel in drastic follower fluctuations in the two weeks since the end of the rebellion. 
Like Wagner Group's primary channel, this channel saw a sharp increase in followers during and after the insurrection, growing out of the 400,000s range and into the 500,000s range. Also similar to Wagner's channel, it experienced a period of decline starting June 27th, when the Wagner Group officially arrived in Belarus, and then another sudden climb in popularity in early July. Unlike Wagner's channel, this affiliated channel did not face a decline in followers after July 1st, but instead experienced steady growth in the hundreds to low thousands each day. 
On July 3rd, Prigozhin posted the following message on the Wagner-affiliated channel: "We need your support today more than ever. Thank you for that. I want you to understand that our 'justice march' was aimed at fighting traitors and mobilizing our society. I think we achieved a lot of that. In the near future, I'm sure that you'll be seeing our next victories at the front. Thank you, everyone!"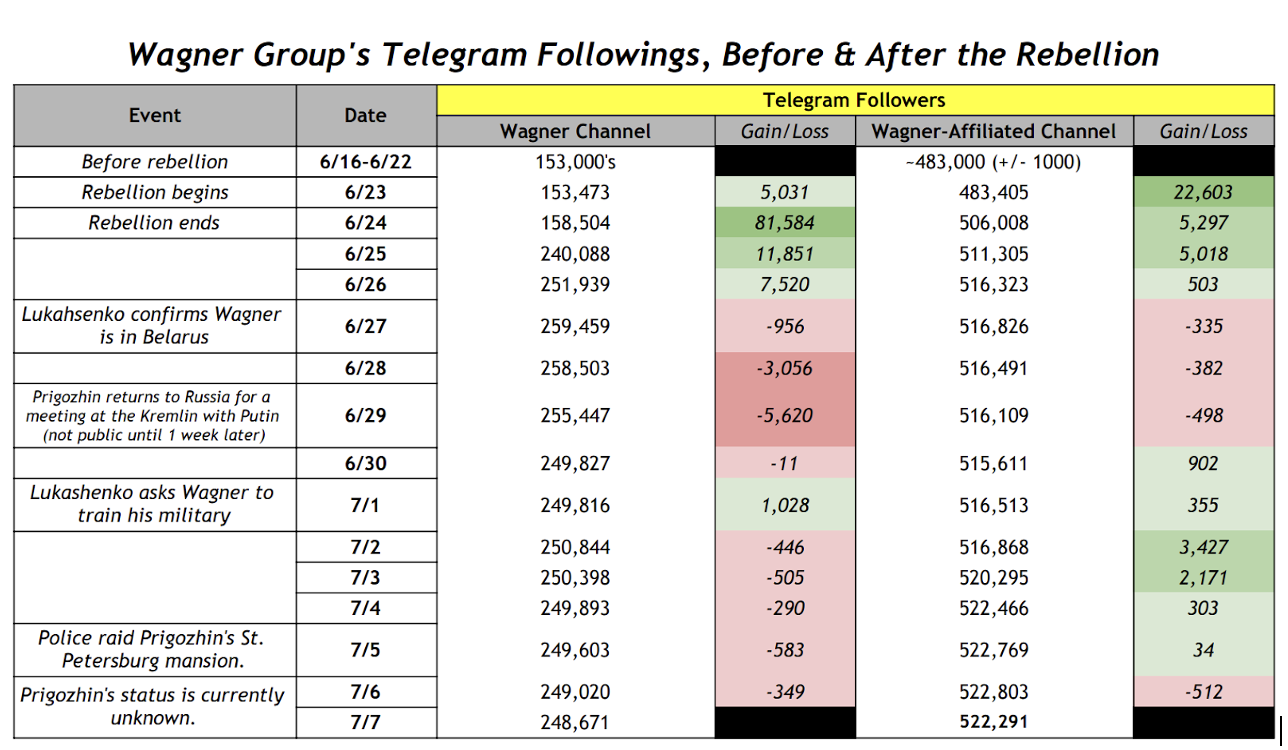 On July 6th, President Lukashenko announced that Prigozhin was "no longer under his protection" and that he was now back in St. Petersburg, not Belarus. A few days later, sources confirmed that Prigozhin met with Putin at the Kremlin on June 29th, where Putin addressed 35 Wagner commanders with an assessment of Wagner's war activities and the mutiny. Currently, Prigozhin's status is unknown. It remains to be determined why Prigozhin left Belarus, and how his determination to "fight traitors," "mobilize society," and claim "victories at the front" will unfold. 
The coup launched by the Wagner Group evidences a deep fracture in Putin and Prigozhin's relationship. Prigozhin's rebellion has publicly undermined Putin's public image, and in return, Russian state media has been working diligently to discredit Prigozhin. The Wagner Group's bold stunt may have succeeded in drawing a massive increase in Telegram followers, but it is currently unclear if this surge in popularity is temporary, or if it will help rebuild Prigozhin's power. The Russian Field polling center recently conducted surveys on the public's view of Prigozhin both before and after the Wagner rebellion. Before the rebellion, 55% responded that they viewed Prigozhin's activities in the Ukraine war positively, and after the rebellion, only 29% still held positive views. One source notes that "despite the drop, it's notable that nearly a third still view him positively, although the share of people viewing him negatively after the mutiny has nearly tripled." This shift in popularity for Prigozhin himself may help explain the recent fluctuation in Prigozhin's and Wagner's Telegram following. Considering the "nearly a third" who still support Prigozhin are a significant population if generalized to the entire Russian population, it will be interesting to observe how supporters play into the Wagner Group's survival and interactions with Putin and Lukashenko in the near future.
1VK, formerly "VKontakte," is a social networking platform with similar characteristics to Facebook based in St. Petersburg, Russia. In Russian, the original name means "in contact."