How I Got Hired: Executive Director, Santa Cruz County Business Council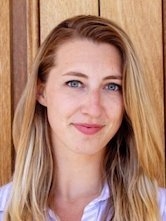 Middlebury Institute graduates discuss where they are working today, how the Institute helped them get there, and what advice they'd give to current and future MIIS students.
My name is Emmy Ham and I graduated with an MPA from the Middlebury Institute in 2020. My language of study was French and I am also an alumna of the Teaching Assistant Program in France (TAPIF). I interned with the Monterey Bay Economic Partnership in Marina, California, and am now the executive director of the Santa Cruz County Business Council in Santa Cruz, California.
I learned about this opportunity as a result of working with Robert Singleton, the outgoing executive director of the Santa Cruz County Business Council, as a housing specialist at the Monterey Bay Economic Partnership. I found out about the open position through him and just being involved with the organization.
The organizational change and development courses I took at MIIS were critical to securing this position and will continue to shape my plans for the business council. I graduated with a solid understanding of what organizations need, not only to survive but to thrive, particularly those that engage on complex, wicked problems. The Women in Leadership course I took during my last semester also helped a lot! I am finally building my career with confidence that I am qualified, capable, and unique in terms of what I bring to the table.
Interview Your Prospective Employer while They Interview You
My advice for current students is to aim high! You are way more qualified and capable than you probably give yourself credit for, and you just never know when it comes to applying for that dream position. Also, the interview process is an opportunity to make sure the organization is a good fit for you as much as it is for them to assess your qualifications.
For More Information