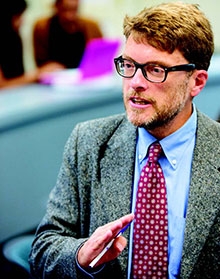 When I first arrived at the Monterey Institute of International Studies in 2011 to take up a new position as an associate professor of international policy studies, I was immediately struck by two distinctive aspects of the school.
First was its intimacy: a relatively modest 20-building campus tucked into three square blocks adjacent to downtown Monterey, and enrolling just 750 or so stu­dents. This setting contributes to a unique­ly close-knit community of scholars, stu­dents, and staff.
Second was the sense of purpose that pervades this school. Founded in 1955 with the intention of promoting interna­tional understanding through the study of language and culture, the Institute has always had an idealistic streak, but one that is grounded by its focus on practical applications of skills and intensive prepa­ration for a successful transition into the workplace. Whatever else has changed— people, programs, the name—the school's character and intention, its deep-seated understanding of its own purpose in and value to the world outside Monterey—has never wavered.
I've been reminded of both of these characteristics repeatedly over the past few weeks as I have transitioned into the new role (described in greater detail else­where in this issue) of vice president of ac­ademic affairs and dean of the Institute. The challenge today for the Institute's leadership is in many ways the same as it has always been—to continue the steady evolution and focus on relevance that has kept the Institute at the forefront of inter­national, professional graduate education for half a century, while never losing sight of the foundational elements that make this such a unique and special school.
In the months ahead I look forward to speaking with as many of you as possible, at public events on campus, at alumni events around the world, and in a variety of other settings. Your thoughts, ideas, hopes, and dreams for MIIS will continue to be an essential part of the conversation as we move forward into a new era for the Middlebury Institute of International Studies at Monterey.
Write to Vice President for Academic Affairs and Dean of the Institute Jeff Day­ton-Johnson at miisvp@miis.edu.