Launching the Center for Social Impact Learning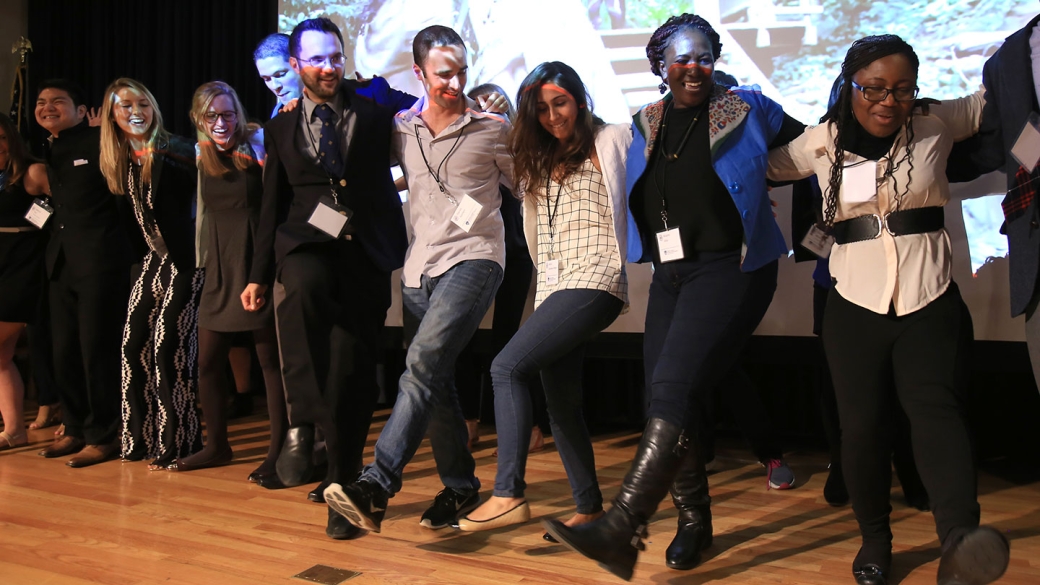 The Center for Social Impact Learning (CSIL) at the Middlebury Institute celebrated its official launch on March 25, 2015 with a full day of events focused around the center's goal of stimulating interest—especially among the millennial generation—in the emerging fields of social entrepreneurship and impact investing.
The center aims to achieve this goal through academics, experiential learning opportunities, and action-based research. Its flagship programs include the Frontier Market Scouts fellowship program, for young professionals and graduate students seeking careers in social-enterprise management and impact investing, and the Ambassador Corps program, a field internship program providing hands-on professional experience for undergraduates working with social entrepreneurship organizations in developing countries.
The launch celebration kicked off with a pop-up market comprised of 20 social enterprise kiosks, followed by a diverse program of presentations, poetry, and music. The keynote address by Daniel Epstein, founder and CEO of the Unreasonable Group and director at the Girl Effect Accelerator, was prefaced by remarks from Ron and Marty Cordes of the Cordes Foundation, CSIL Director Jerry Hildebrand, and former MIIS president Sunder Ramaswamy.
The audience also enjoyed a musical performance by Maame Afon MAIPS '05, stories about the founding of the Frontier Market Scouts and real-life experiences working in the social impact sector, and a call to action by a cadre of aspiring change agents. Discussion panels featured social entrepreneurs including Ashoka Fel­low and Nobel Peace Prize nominee Dr. Sakena Yacoobi, a member of the CSIL Advisory Council.
"We were genuinely thrilled to kick off the work of the Center for Social Impact Learning with such a powerful gathering of students, colleagues, social innovators, impact investors, and supporters," says Hildebrand.
Moving forward, the center is focused on exploring new initiatives such as a community-based microfinance fund in Salinas, a B Corps certification lab for social impact start-up enterprises, an innovation incubator to catalyze MIIS students' home-grown social business ventures, and an impact investing collo­quium featuring notable thought leaders and practitioners in the field of social impact investing.
"The Center for Social Impact Learn­ing is a potential game-changer," said Vice President for Academic Affairs and Dean of the Institute Jeff Dayton-John­son. "Programs like the Frontier Market Scouts and Ambassador Corps offer a direct path into the world of social entre­preneurship and invaluable learning op­portunities along the way."