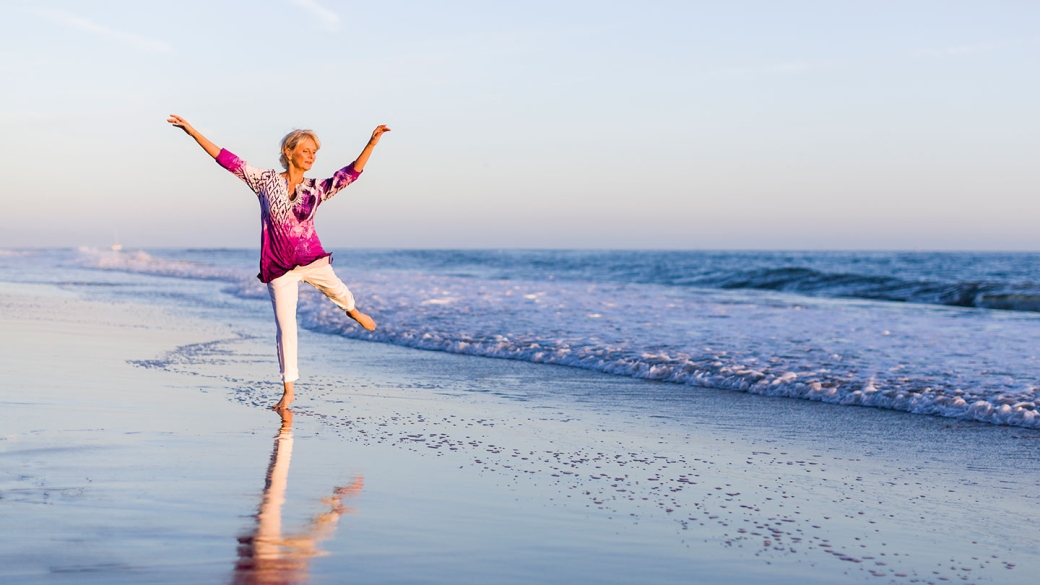 Janet Reineck MATESOL '92 says her classmates knew her as a "tweener"—someone whose academic program trained her to teach English to speakers of other languages, but who also had a deep interest in development work. Inexhaustibly curious and adventurous, she arrived in Monterey after earning a BA in dance ethnology from UCLA and spending four years living in Kosovo, working on her master's thesis for UCLA and doctoral dissertation in anthropology for UC Berkeley. (She walked in PhD ceremonies at Berkeley while a student in Monterey, with her two-year-old son in tow.) In 1994, Reineck returned to Kosovo for another three years before coming back to California and later founding her own NGO, World Dance for Humanity, which supports grassroots development projects in Rwanda. Here are a few of the lessons she has learned along the way.
Follow your intuition when making job choices. I had planned to teach overseas after getting my TESOL degree and was offered a job directing English language programs in Albania. But I didn't take the job. Instead, I moved to the Bronx to work with the Kosovo expat community there, hoping this would somehow get me back to Kosovo. That's when Oxfam called me and asked me to return to investigate the possibility of launching a development program in Kosovo, which led to a three- year stint directing rural development programs, first for Oxfam, then for the International Rescue Committee (irc). I've followed my gut in every other career choice and in the paths I've carved for the nonprofits I've worked for, and good things have come of it.
Know the society well before navigating political minefields. When I returned to Kosovo in 1994, Yugoslavia was falling apart, the situation in Kosovo was pre- carious, and getting permission to work there was very tough. Finally, the Serbian Ministry of Health gave me permission to work on "improving sanitation in primary schools." They assigned me to the mixed Albanian and Serbian communities in the east of the province. When I got there, I discovered that the populations were barely speaking, all community projects had been at a standstill for years, and the Serbs were watching every move I made. Despite this, we were able to expand our "sanitation" program into school rehabilitation, health education, and schooling for girls.
Understand what's going on in the minds of people you're working with. I was able to navigate the dicey political environment in Kosovo thanks to a savvy local staff, the fact that I had done research for four years in Kosovo before I ever started aid work, and my fluency in Albanian and Serbian. I really felt for the aid workers who were trying to make things happen with almost no knowledge of the culture. It's so easy to be fooled and led astray if you're following your own assumptions about the way things work in a foreign culture. I could cut through much of what the locals wanted outsiders to believe, get real with people, and challenge the inherited wisdom.
Development work has to be accomplished from the inside out. It should now be common knowledge in the international development community that if you impose aid on people from the outside, your program will probably fail. You have to create a situation that allows the people you're working with to "own their change." The projects need to be theirs, not yours. This means working with trusted leaders within the communities who can help envision and plan projects that make sense to them, ones they believe in and care about.
Sometimes, the work is just about creating hope. My nonprofit, World Dance for Humanity, is working with 7,705 Rwandans in 20 rural Rwandan cooperatives who are still recovering from the 1994 genocide. I was talking recently with one of our local staff about the living conditions in the co-ops (dirt walls and floors, no possessions, bare-bones living). He said, "These are all things they can live with. They're used to it. The thing that makes it impossible is if they have no hope. They now have World Dance for Humanity as a witness to their lives, as a partner in their progress. Each family has a goat. Each community has cows. The children are in school. The co-ops are starting their own businesses. Now they have hope."
Interdependence creates the possibility of reconciliation. In Kosovo during the 1990s, Serbs and Albanians lived in parallel societies, avoiding each other at all costs—and they've never truly reconciled. In Rwanda, we're working with Tutsi, Hutu, and Twa people who, in 1994, committed unfathomable atrocities against each other. About a decade ago, a number of perpetrators and survivors made the courageous move to pool their resources and labor in government-sanctioned "cooperatives" in an attempt to stay alive. They are living, working, planning their future together … and setting an example for the world. It's an extraordinary privilege to work with these people.
Dance is a powerful way to connect. In so many of the cultures we work with, dance is a fundamental part of social life. Dancing together can be an incredible equalizing force, cutting through our cultural differences, creating an immediate bond between us and the people we serve. I grew up dancing, and it's been a big help to my work in Kosovo and Rwanda. The first time we arrived at one of the communities we work with in Rwanda, the people were already dancing, drumming, and singing with all their might. We jumped in and never looked back. It's been like that ever since. Our Rwanda program director once told me, "They expected you to sit on chairs and watch. They didn't expect for you to get down in the dust with them. It's what makes them feel close to you."
When we're dancing, there's no us and them. We're just people dancing, seeing what we can bring to the experience. I know this is a big part of why our projects work—because we're "down in the dust" with them, getting real, get- ting connected, making things happen, together.