The View From Segal: Global Reach, Local Impact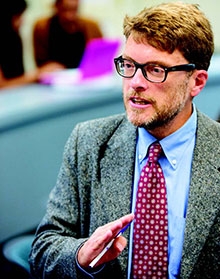 One of the interesting quirks about the Institute is the fact—and I know many Communiqué readers can attest to this—that you're at least as likely to run into someone who's familiar with the Institute while walking down the street in Washington, D.C., or Vienna, Austria, as you are while doing the very same thing here in Monterey.
This reality is one of the reasons I in­vited several dozen local community lead­ers earlier this year to an event we titled "Institute Impact: Updates on Local and Global Activities." In addition to display tables highlighting the work of different campus entities such as the James Mar­tin Center for Nonproliferation Studies, the Center for the Blue Economy, and our language and professional programs, the event featured an overview of the Institute that purposely highlighted how our in­ternationally focused programs also have a major impact right here in Monterey County.
That impact can be expressed in raw economic terms—an operating budget of $46 million, around 250 employees and 750 students, events that attract local community members to our downtown campus daily, and so on. I shared all of that, but at least as interesting was our discussion of the Institute's broader quali­tative impact on the Central Coast—how we enhance the community conversation about critical issues and contribute to crafting solutions.
I explained how researchers from the Institute's Center for the Blue Economy have been working with local officials on identifying strategies for adapting to sea level rise. I shared the work of students and faculty from the META Lab who have been conducting data research and analysis for the city of Salinas to support conversations around public policy. I told them about the Team Tandem project, which pairs students seeking to improve their Spanish with Spanish-speaking area residents who want to improve their English. And I high­lighted the work that translation and inter­pretation students are doing in local health clinics to ensure that patients and doctors can communicate.
These are all examples of immersive learning, a core element of the Institute's approach to professional education today. As much as these projects benefit the community, they may benefit the students engaged in them even more, by offering them the opportunity to apply the skills they are learning in the classroom direct­ly to real-life issues.
As we look to expand access to our programs by diversifying our modes of delivery to include more hybrid, low-res­idency, and accelerated programs, we're also seeking to deepen connections, both across all of Middlebury and between the Institute and the Central Coast commu­nity that is our home. We will continue to highlight the ways in which the Institute has both global reach and local impact.