The View From Segal: Seamless Boundaries Between Local and Global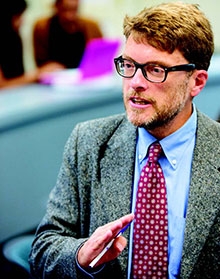 Consider the news headlines of the past few months: leaders around the world are struggling to address monumental issues ranging from terrorism and migration to resource management and sustainable development, all while being challenged to collaborate with others in a language and cultural context different from their own.
These are big, thorny, truly formidable problems, yet I am heartened when I think about the work we are doing at the Institute and how this work is preparing our students to participate on the global stage.
A few years ago, Professor Phil Murphy and his colleague Fernando de Paolis cofounded the Mixed-Methods Evaluation, Training, and Analysis (META) Lab to support a long-term student project involving collaboration with the police department and community organizations in neighboring Salinas.
Phil was our faculty speaker at Winter Commencement, and by way of introduction, I talked about how this hyper-local effort that is of paramount importance to our community could also serve as a blueprint for operations around the world.
A collaboration between META Lab and a community-violence prevention program called Night Walks is a good example of this. Since 2009, community and governmental leaders in Salinas have staged weekly patrols by local residents in neighborhoods with demonstrated high rates of crime. The idea is that if the patrols occur during the most dangerous hours for gang activity, the public presence of civilians will reduce the potential for violence.
Until recently, though, the program's organizers operated by intuition and instinct, choosing locations and hours of operation without any real insight into when and where they were most needed.
Using aggregate police data and mapping software, the META Lab team was able to pinpoint specific hot spots of violence—locations, times, and frequencies. The team is continuing today to use map- ping tools to identify the ebbs and flows of gang violence in the city and better target resources aimed at prevention. They are also working on an evaluation of the impact of Night Walks on gang violence.
In this example, we're talking about improving the lives of residents in three neighborhoods in Salinas. But it could just as easily have been five neighborhoods, or seven, or an entire town, and the town could just as easily have been in Korea, or Kosovo, or Kazakhstan.
The skills and principles are the same; only the context changes—and one of the things students come to Monterey to learn is how to tackle a wide range of problems in their own unique physical and cultural contexts.