The View from Segal: The Search for Truth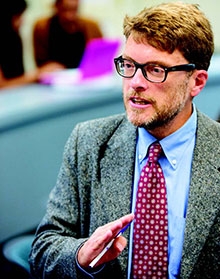 Education has been characterized, at various times by various people, as the search for truth. I think most of us feel like that search has gotten harder in recent years. Truth derives from facts, and facts feel like they should be tangible, ever-present, and unchangeable things. But it turns out that there are facts, and alternative facts, and perhaps even alternatives to the alternative facts.
Rooting out the truth is both more challenging and more important than ever before today. Research, data, language, and communication, how ideas and issues are framed – all of these things help to shape and define the truth even as they present it to an audience.
The skills students learn at the Middlebury Institute equip them to root out and communicate the truth across all boundaries. While here in Monterey they learn how to uncover and present the data and evidence to support conclusions that inform policy decisions, shape programs, and launch businesses. They also connect and facilitate conversations between people from different cultural backgrounds and nations who want to express, or learn, or agree upon, or create new truths.
We've seen several high-profile examples of this recently. Every time North Korea tests a new missile or nuclear weapon, the experts from the Institute's James Martin Center for Nonproliferation Studies are prominently featured in the ensuing media coverage. Their groundbreaking work using open-source materials to analyze developments in North Korea's nuclear program has definitively aided the search for truth.
Another example came during President Trump's trip to Asia last fall. One of the interpreters assisting the president during his meetings with Japanese Prime Minister Shinzo Abe was Lefteris Kafatos MACI '10. As the two leaders discussed critical issues like trade and security, Lefteris, as much as anyone else in the room, was responsible for safeguarding and upholding the truth of those conversations. (Lefteris did the same again for Vice President Pence in February.)
Finally, we heard last fall from our friend and colleague Bill McKibben, author of The End of Nature, founder of 350.org, and the Schumann Distinguished Scholar in Environmental Studies at Middlebury College. In his remarks here in Monterey, Bill shared important truths—based on empirical data—about global climate change. Truth telling isn't always easy, but it's vital to the health of our society and indeed of the planet itself.
These are just three examples in service of a broader charge that I gave to our December graduates: to never settle for the easy answer, and to be fearless and relentless in seeking out the underlying truth. I know they will go out into the world and make us proud.