The View From Segal: We Need to Talk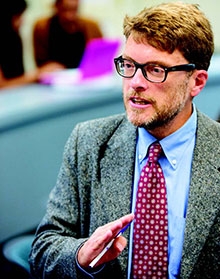 It's been an eventful six months since our last issue of Communiqué; indeed, the U.S. presidential election and its aftermath have at times seemed to consume all of the oxygen on our Monterey campus.
Many after-the-fact analyses of the election pointed to groups that have been feeling left out of the national conversation about the country's direction. Furthermore, the tone and tenor of that national conversation have often made it appear that many of us have lost the ability or desire to listen to or understand our fellow citizens.
This should be a deeply troubling development, because you can't have a real conversation if everyone is talking and no one is listening. In order to accomplish anything of lasting significance, you have to find ways to communicate across barriers, whether they are social, economic, political, ideological, cultural or linguistic.
These sorts of essential conversations, about vital issues, across significant barriers that might otherwise keep people apart, are the reason why the Middlebury Institute exists. The Institute was envisioned by its founders in 1955 as a graduate school that would promote international understanding through the study of language and culture. That simple idea remains at the core of our mission and programs 62 years later.
This spring we're hosting a series of public discussions (the WorldViews speaker series) featuring faculty members addressing vital international topics within the context of the Trump Administration's first 100 days. On March 1, Dr. William Potter, founding director of the James Martin Center for Nonproliferation Studies, addressed the "Global Implications of Administration Policies on Nuclear Weapons." April 12 found us examining "Our Evolving Relationship with Russia" with Professor Anna Vassilieva, director of the Institute's Graduate Initiative in Russian Studies. Finally, on May 10, a panel including Professors William Arrocha, Netta Avineri, and Jason Scorse will explore the "Impact of Domestic and International Policies on Our Community."
The Institute also serves as a convener for outside speakers who are part of the national conversation. On April 13, the Institute hosted California State Senate Majority Leader Bill Monning, Assemblyman Mark Stone, and Secretary for Natural Resources John Laird for a discussion titled "Charting the Course: California Leadership in the Age of Trump."
As gaps in perception and understanding widen, these moments of dialogue about critical societal issues become that much more important. Whatever else one might care to say about these past six months, they have made it clear to me that the mission of the Middlebury Institute of International Studies has never been more relevant, or more essential.