Alumna Marina Abrams: Bridging Cultures Through Children's Literature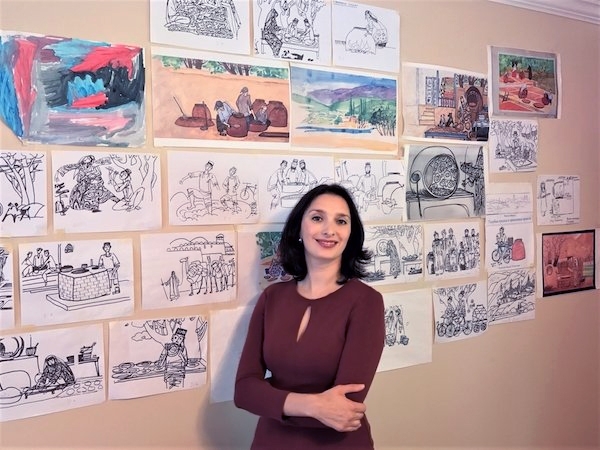 Growing up in small town Uighur town close to the Kazakhstan border with China, Marina (Voronova) Abrams MAIPS '05 says she knew very little about the surrounding countries and their cultures. After she graduated from the Institute, she lived for a year in Tajikistan with her husband, a Returned Peace Corps Volunteer she had met in Kazakhstan. "I discovered how little I really knew about the region where I was born."
As descendants of Persian civilization, Tajiks speak a language very different from Kazakhs. Abrams says the society is more traditional than her own while many elements are the same, and that living there felt a little like "going back in time." Her illustrated book about the world of a Tajik boy called Barzu will be published this fall in English and Russian. Through the story and legends, kids will learn how local people bake bread in clay ovens, how they make those wonderful ovens, about sun-drying fruits, ancient cities, local ethnic groups and languages.
Before coming to the U.S., Abrams worked for the Institute's James Martin Center for Nonproliferation Studies (CNS) in Almaty, Kazakhstan. The Muskie Fellowship sponsored by the U.S. State Department offered her a chance to come to Monterey where, in addition to her studies, she worked as a research associate for Professor Ray Zilinskas. A varied career in international security in Moscow and Washington D.C. followed, but she always had in the back of her mind a desire to return to her passion for art and literature. She also kept travelling to Central Asia and learning more and more about its rich heritage.
"Kazakhstan in the 1990s was not exactly filled with opportunities, so I took what I could and it felt like I was constantly running from one thing to the next." She was "successful, but not thriving." The courage to follow her artistic heart came with her children. "I wanted them to know about beautiful Central Asia, the land where I was born, but found very few books for that." A Kickstarter campaign, a chance connection with a Tajik illustrator, and lots of interesting lessons later, she is getting ready to publish the first book, Orange and Blue: The World of Barzu, in what she hopes will become a series celebrating Central Asian cultures.
Although it may look like an unexpected turn in her career, Abrams thinks it is a logical step for her. Her studies at Monterey and prior work experience gave her the skills to run the project, cooperate with people of different backgrounds, fundraise successfully, analyze the market, and find the right structure for the content of the book. She also believes that her new book is in a sense a continuation of her work in international security, as she hopes it will help show the parents and children around the world the value of diverse cultures.