Best of Both Worlds – Tatenda Kunaka's Story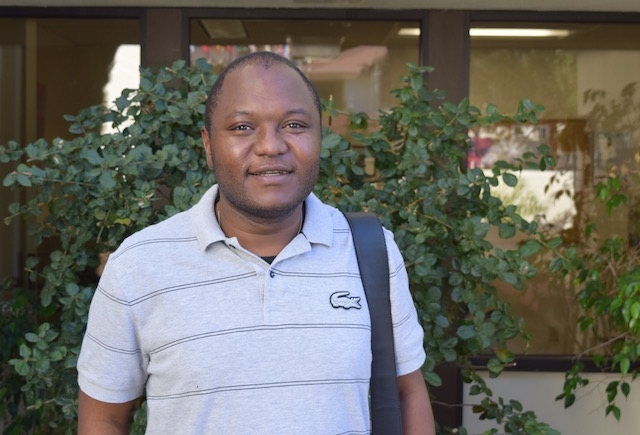 In a typical year, 30 percent of the Middlebury's Institute's student body is made up of international students, and most of the rest have worked or lived in another country prior to attending the Institute. The paths our students travel, both before and after their time in Monterey, are a constant source of fascination and inspiration for the rest of the campus community. Middlebury Institute student Tatenda Kunaka MAIPD '17 recently shared his story, tracing his path from Zimbabwe to Monterey, and outlining his aspirations for the future. In his own words, here is Tatenda's story:
I was born and raised in a small township in Harare, Zimbabwe and at 21, I graduated from a boarding high school of about seven hundred Zimbabwean students just outside the capital. Thinking back to those days, I remember the warm sun hitting us all but a handful of days out of the year. It was commonly in the mid-30s (95°F), which was a temperature I loved as I'd sit and drink my tea and eat my sadza (cooked cornmeal that is the staple food in Zimbabwe and other Southern African countries) with peanut butter each day. But I remember feeling the struggling economy in my city; people were doing anything to make money and it seemed to be getting tougher. Electricity cuts would happen for at least a few hours a day, and it was getting worse when I left.
That being said, most of my reflections today focus on the similarities between Harare and Monterey. Humans, I notice, mainly have the same aspirations in life - feeling useful in life, having peace, happiness, success in any endeavor, a decent meal, security and the hope that tomorrow will be better than today.
After completing my Advanced Level studies in Zimbabwe (post-high school studies), I applied to a scholarship program at a South African communications firm, which, if awarded, would cover the complete cost of my undergraduate degree. They were looking for the top 90% performers and I made the cut.
I enrolled at the University of Texas at Dallas, majoring in telecommunications while also securing employment at AT&T in Dallas working in network support and IT, a job I held for almost seven years.
Towards the end of 2015, I felt like I wanted to be doing work that I connected to more and that better aligned with my personal values. As I prepared to redirect my focus and my career, I looked at the International Policy and Development program at the Middlebury Institute and it seemed like a great fit; I liked the idea of living in a small city in California, and Monterey seemed like a beautiful place to live and study for two years. It quickly became the first choice on my list.
I hope to return home in the not-too-distant future and serve my people in Africa and share the top-notch education I have received here. I feel as though I owe them that, as they have always given me so much love. I do not rule out running for office one day.
The academic environment in Monterey is perfect (almost surreal). I have always wanted to study in a small city because it helps me focus on the important parts of school; Monterey is second to none when it comes to catering for that. I often have animated debates with my colleagues and while we do not always agree on issues, we always try to see the world from the other's perspective. I also enjoy the area, especially Del Monte Beach, Asilomar, Big Sur and Pfeiffer Beach.
I am currently working, together with a few friends on campus, to relaunch and redirect the African Nations Club by making it a platform for all who are interested in Africa, its peoples and its culture. We hope to create an environment where all are welcome—even those who have never set foot on the continent and who may have great ideas and insights from their own countries—and then engage academia at various campuses in Africa to enrich our academic experiences here at the Institute. The ultimate goal is to invite speakers from sub-Saharan Africa to come and share their perspectives on Africa's development and its future aspirations.
A common theme that we see in classes here at the Institute is the emphasis on development as a two-way street in which we, as development practitioners, not only provide certain capacities and assistance to communities, but we also receive expertise and feedback from development partners on the ground about local contexts and what is or isn't working with projects. The African Nations Club presents us with a suitable and inclusive platform to realize this vision outside the formal academic environment where we can utilize some of the skills we are acquiring daily in class.
Once I have completed my studies at the Institute, I hope to work in the development sector in sub-Saharan Africa focusing on economically-marginalized communities and finding ways of integrating them into formal economies.