Bringing More Voices into Security Discussion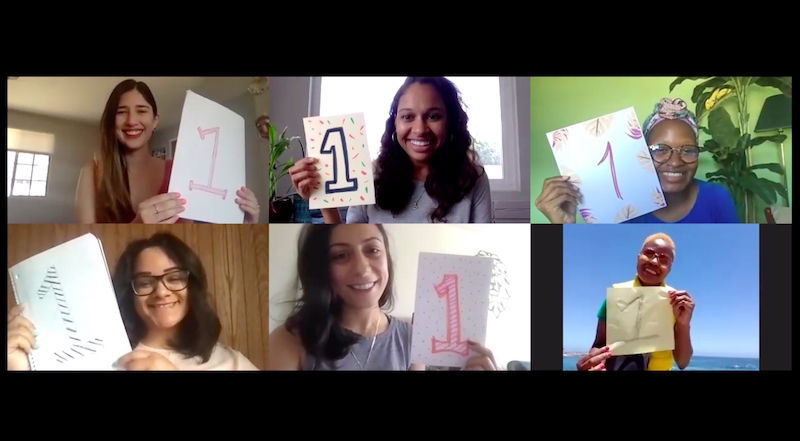 A group of women scholars from the Middlebury Institute have launched the West Coast chapter of Women of Color Advancing Peace, Security, and Conflict Transformation (WCAPS), an international nonprofit organization dedicated to bringing more voices into the security conversation. Jasmine Sturdifen BA/MPA '21, Nomsa Ndongwe MANPTS '20, Rayna Rogers MANPTS '21, Jasmine Owens MANPTS '21, and Nicole Pascoe MANPTS '20 are the dynamic leadership team bringing WCAPS West Coast to life.
 
WCAPS is an international nonprofit created by Ambassador Bonnie Jenkins that seeks to advance the leadership and professional development of women of color in the fields of international peace, security, and conflict transformation. Through dedication to mentorship and partnerships and a passion for changing the global community landscape, the platform devoted to women of color cultivates a strong voice and network for its members while encouraging dialogue and strategies for engaging in policy discussions on an international scale. "We tackle modern challenges to peace and security by centering and amplifying the voices of women of color," says Ndongwe, co-director of the chapter.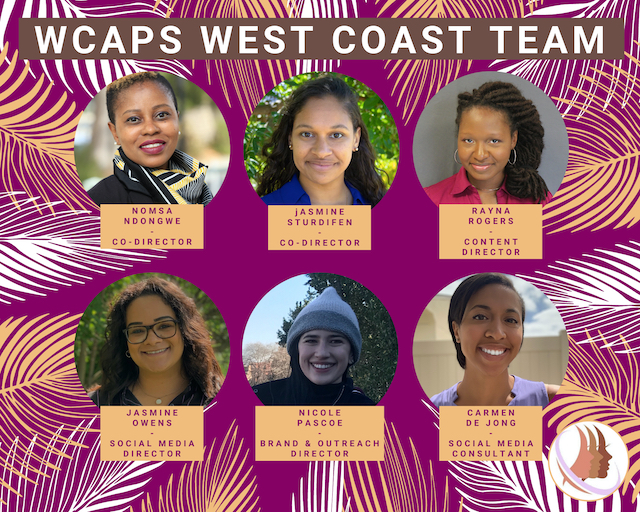 "I am really looking forward to working with this team," Ambassador Jenkins said at the formal launch of the chapter on July 1. She shared with the close to one hundred participants at the online event that she founded the organization after finding herself often the only women, and only person of color involved in important discussions in the field of international security.
She went on to say that issues of security are by definition the important issues that threaten our very existence. "I wanted to develop a network of women working in the field to strengthen our voice." She pointed out that women of color are impacted disproportionally by the lack of security but that they often do not have a voice at the policy table. The organization aims to amplify their voices and strengthen the pipeline for women of color joining the field. The organization intentionally looks at international and national security through a broad lens. "How we define security also defines who gets a seat at the table," Jenkins says, adding that it is important to look at how access to food, water, education, and economic stability/mobility combine with the issues traditionally associated with the term of security.
The launch event featured a lively and engaging panel discussion with four women entrepreneurs: Erica Davis and Catherine Carter, co-founders of The Sip, and Sam Hartsock and Noemí Jiménez, co-founders of qb consulting. They spoke about what happens when you pull back the curtains on the inner workings of corporations, often favoring male advancement, and limiting flexibility that allows for work life balance. Davis shared that they feel lucky to have secured seed funding, especially given that the amount of money invested in black female entrepreneurs in the U.S. does not even rise to one percent of what is annually invested in start-ups. Representation matters, they all agreed. Seeing more women succeed as entrepreneurs and business owners will help others follow in their footsteps. "We have to make our own table."
Hartsock shared that she quickly realized after getting into what she had previously thought would be her dream career, that the way talent is evaluated would not lead to a career progression for her and that leadership in the sustainability field was basically pulling from a pool of people from the same backgrounds, same schools. She and Jiménez take relationship building very seriously in their consulting work. One of the important elements of being an ally, Hartsock says, "is learning that you cannot ever put down the insidiousness of white supremacy in our society." She adds that it takes doing the inward work and the outward work at the same time.
"When we saw the New York chapter pop up and we saw the UK chapter pop up, we thought, 'Why not us?' Jasmine Sturdifen, co-director says when asked why it was important for the group to start the West Coast chapter. "We have the expertise. We have the vision. We have the geographical location. We can bring this vision to life." Her colleague Jasmine Owens, specializing in nonproliferation and disarmament, knows what it's like to work in homogenous, white male-dominated spaces. "It's past time that we elevate more diverse voices in these fields," says Owens. "I wanted to do my part by helping bring this movement to the West Coast!"
WCAPS West Coast is hosting a webinar with Ambassador Jenkins on Friday, July 10 at 2pm EST. Ambassador Jenkins will be talking about her experiences in the WMD and Counterterrorism fields, her experiences as a Black woman in these fields, and advice she has for young professionals.