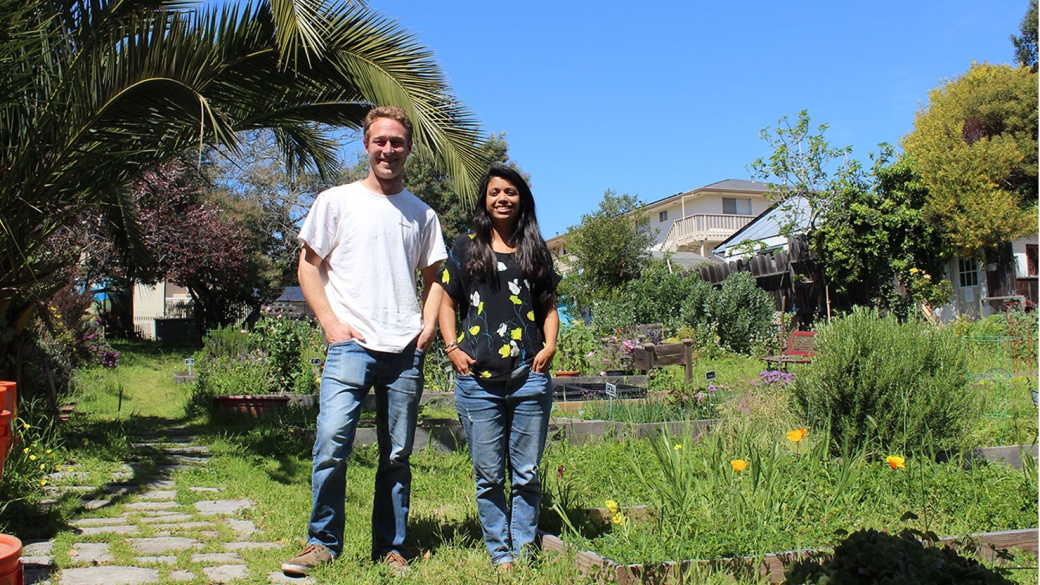 From conversations about managing water resources and transitioning to green energy, to fair trade coffee and an environmentally-focused film festival, Earth Week 2018 at the Middlebury Institute has something to offer for almost everyone.
"Earth Day is my favorite holiday, one that everyone can celebrate," says Sam Blakesley MAIEP '19, co-organizer of the week's activities along with classmate Zara Currimjee MAIEP '18. "Having a whole 'Earth Week' at MIIS based on spreading awareness and appreciation for the earth and sustainability issues is even better."  
The campus community's celebration of Earth Week kicks off with a mid-afternoon pick-me-up of fair trade coffee and brownies on the lawn of Simoneau House from 1:30-3:00 p.m. on Monday, April 16. Later the same day, a panel discussion on "Managing Water Resources with Climate Change" takes over Irvine Auditorium from 6:00-8:00 p.m.
"By popular demand from faculty and staff," Currimjee tells us, the Monterey Regional Waste Management District visits campus on Tuesday to lead a hands-on composting workshop. "By the end of the workshop, attendees will be fully equipped with knowledge on how to compost at their workplace." Tuesday will also see the opening of the photography exhibit "55 Inches"—focused on explaining and documenting the phenomenon of sea level rise—in the McCone Building lobby. Tuesday evening is highlighted by "Powering Partnerships: A Panel Discussion with Labor and Environmental Advocates Finding Common Ground on California Climate Policy," from 6 to 7:30 p.m. in Irvine Auditorium. (See our earlier news story on this panel.)
The Salty Film Festival is the featured event on Wednesday, featuring several short films highlighting efforts and stories that educate and inspire protection of our ocean, coastline, and water resources. "I am truly excited to share a curation of short films that highlight the importance of Earth's greatest asset, water," says Blakesley. The focus turns to food, fun and knowledge on Thursday as the Sustainability Council hosts an Earth Week BBQ in the Institute's Our Green Thumb Garden during lunchtime, followed by Earth Week Trivia Night at Fieldwork Brewery (with fish tacos from Real Good Fish) from 6:00 to 8:00 p.m.
On Saturday, community members have a chance to get your hands dirty with an Earth Day Community Service Day co-sponsored by the Sustainability Council and the Big Sur Land Trust. Volunteers will have the chance to work on projects including: converting existing fences to wildlife-friendly fencing, installing boundary signs, removing invasive species, improving trails and roads, and restoring the historic hacienda. Snacks and lunches will be provided, and this event requires registration. 
Currimjee stresses that "This week filled with fun activities would not have been possible without the support and generosity of the campus community here and in Middlebury, and we are collaborating with alumni at the Big Sur Land Trust, Real Good Fish, the Monterey United Nations Association, and Happy Girl Cafe. We are thankful for their support and interest in giving back to the community and environment."
A complete schedule follows below. For more information about all of these events, email sustainablecampus@miis.edu.
Earth Week 2018 at the Middlebury Institute
Monday, April 16
1:00-3:00 p.m.             Fair Trade Coffee & Brownies                       Simoneau Lawn
6:00-8:00 p.m.            Panel: Managing Water Resources             Irvine Auditorium
Tuesday, April 17
12:30-1:30 p.m.           Composting at the Workplace 101               Morse B106
12:30-2:00 p.m.          "55 Inches" gallery opening                          McCone Lobby
6:00-7:30 p.m.            Powering Partnerships                                   Irvine Auditorium
Wednesday, April 18
6:00-8:00 p.m.           Salty Film Festival                                            Irvine Auditorium
Thursday, April 19
12:00-2:00 p.m.           Earth Week BBQ                                             Our Green Thumb Garden
6:00-8:00 p.m.            Earth Week Trivia Night                                Fieldwork Brewery
Saturday, April 21
9:00 a.m.-1:00 p.m.    Earth Day Community Service Day             Marks Ranch