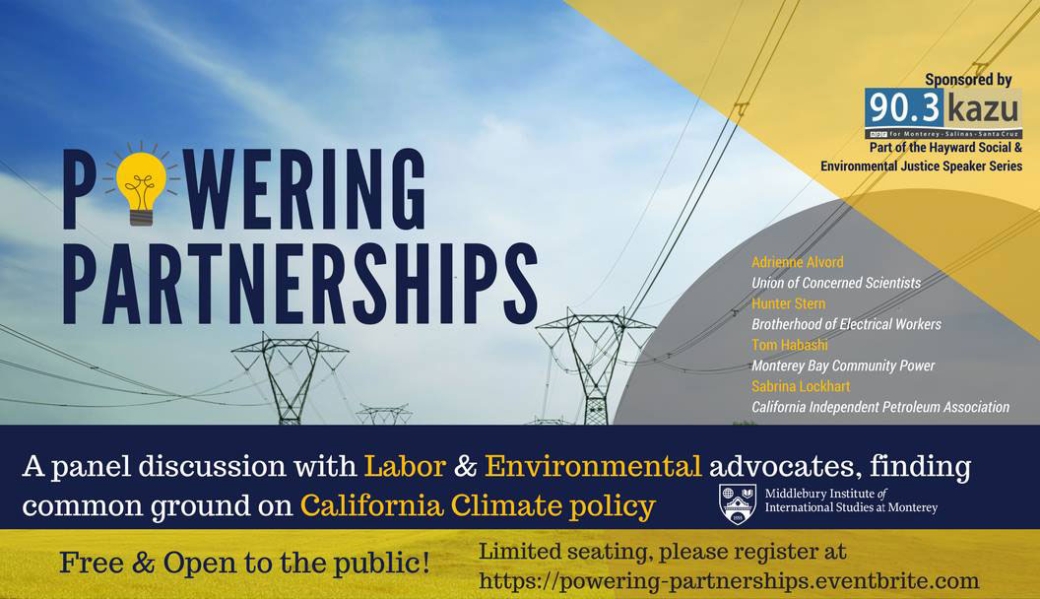 Conversations about climate policy can be challenging; even assuming agreement on the science of climate change, policies designed to address it can have significant consequences for individuals and communities. As a leader in green business and energy, how can California also lead in mitigating the negative effects of these policies on existing industries and workers in the state?
On April 17, a diverse panel representing the green energy sector, labor, and traditional fossil fuels will explore solutions in a conversation titled "Powering Partnerships: A Panel Discussion with Labor and Environmental Advocates Finding Common Ground on California Climate Policy." The event is part of the Hayward Social and Environmental Justice Speaker Series, co-hosted by the Institute's Center for the Blue Economy as part of the Hayward Sustainability Speaker Series (supported by the Nancy Eccles and Homer M. Hayward Family Foundation) and the Social and Environmental Justice Speaker Series (supported by the Institute), with additional support from KAZU radio as a media sponsor.
Elea Becker Lowe MAIEP '18, one of the student organizers of the speaker series, sees it as an opportunity to expand the conversation about climate policies. "As International Environmental Policy students, we're exposed so often to the benefits of moving toward a renewably-sourced energy future, yet we don't always discuss the major challenges that this movement is causing. This panel is a chance for us to learn from experts and advocates who can offer insight into shaping a just and efficient future."
The series was developed and coordinated by Lowe and fellow International Environmental Policy students Rebecca (Rivvy) Eisenberg MAIEP '18 and Molly Shane MAIEP '18. Panelists at the April 17 discussion will include:
Adrienne Alvord, California & Western States Director, Union of Concerned Scientists
Hunter Stern, Business Representative, Brotherhood of Electrical Workers
Tom Habashi, Chief Executive Officer, Monterey Bay Community Power
Sabrina Lockhart, Director of Communications, California Independent Petroleum Association
The four panelists, who Lowe describes as "excited and quick to reply" to the invitation to participate, will share their experiences working on issues including labor justice, climate change, energy security, and the political environment surrounding the movement towards clean energy in California. The goal of the forum is identify common ground and "collaborate to create better jobs for workers now and a better, healthier environment for both our communities and future generations."
The event is scheduled for 6:00–7:30pm on April 17 in the Irvine Auditorium at 499 Pierce Street on the Institute's downtown Monterey campus. The event is free and open to the public, with registration requested—please register here.
Lowe sees the panel as an opportunity to further enrich her program of study at the Institute. "As an environmental policy student with a focus on natural resources management and policy, renewable energy policy is almost part of the definition of my degree, and social justice has become a large piece of my studies. I see this panel as a rare opportunity to explore that connection with leaders in their fields." Lowe hopes to stay in California and work on environmental policy at the state level after graduating.