The Career Benefits of Intercultural Competence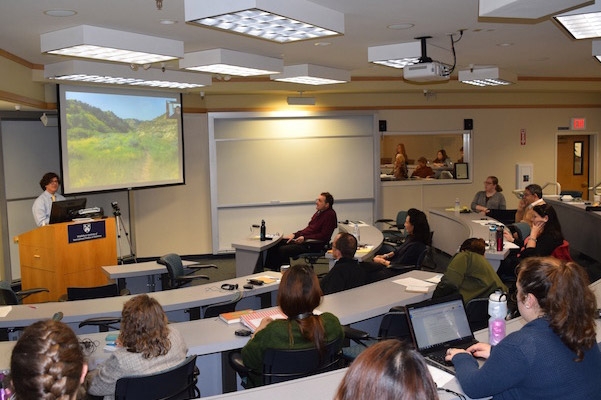 A panel of practitioners, consultants and faculty shared insights and tips for integrating intercultural competence into career objectives at a well-attended event at the Middlebury Institute on February 14. The panel included practitioners with careers in international education, development, advertising, consulting and communications.
"Intercultural competence and intercultural communication are integral aspects of learning, teaching, and experience at MIIS and beyond," says Professor Netta Avineri. "Our hope with this panel was to provide faculty, staff, and students with the diverse perspectives of people who have worked domestically and internationally, so they could learn about the various paths students have for meaningfully integrating intercultural competence and communication into their careers."
Avineri, who also chairs the Institute's Intercultural Competence Committee, provided an overview at the forum of the new intercultural competence (ICC) specialization offered to students beginning last fall. The specialization requires 16 credits of coursework designed to equip students with the essential knowledge, skills and attitudes to expertly lead and train multicultural teams, sensitively interact with diverse stakeholders, and create effective ICC assessments and training materials.
The panelists shared how valuable intercultural skills have been to them at various parts of their careers, from international education, working in the corporate world, advertising, media and development work.
Panelist and career advisor Scott Webb MPA '07, who worked as a recruiter for international NGOs before returning to Monterey, shared his experience seeking the perfect candidates for particular roles, noting that it was often intercultural and interpersonal skills that set the best people apart. Other panelists were: Mary Kay Park, managing director of the Far East Broadcasting Company-Korea in Los Angeles, a global media non-profit that operates 14 radio stations in Korea and the US; Jacqueline Oliviera, adjunct professor at the University of California, Santa Barbara, who has over 20 years of experience working as a national and international intercultural consultant; and MIIS Assistant Professor of International Education Management David Wick. The forum was moderated by Professor Michel Gueldry and interpreted simultaneously into French by students in the Translation and Interpretation degree program.