Career Fair Includes 31 Alumni Returning to Monterey to Recruit Students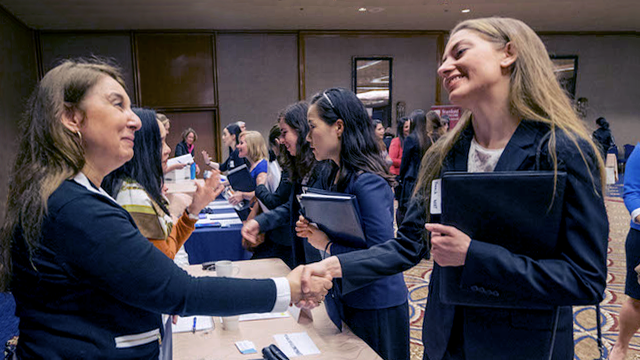 Forty organizations including Netflix, the U.S. State Department, Stanford Health Care, and PayPal sent representative to recruit Middlebury Institute students at the Translation, Interpretation and Localization Management (TILM) Career Fair on February 19. Held at the Portola Hotel in Monterey, the fair was once again a draw for alumni returning to recruit students for various positions in their field; this year 31 alumni attended, representing 17 different organizations from near and far.
Jaffee Lu MACI '13 probably made the longest trip, traveling from Beijing to recruit for LeEco (formally LeTV). He was joined by classmate and colleague Vladimir Melnikov MACI '13. Harold Henthorn of Star Group also traveled from Asia to recruit uniquely qualified Institute students. Most representatives travelled from within the United States, including Johanna Parker MATI '05 and Natalia Zoubko MATLM/TI '11, recruiters for Bay Area employers Stanford Health Care and eBay.
Events like the TILM Career Fair are inevitably inspiring for students, alumni, faculty, and employers alike. The professionalism and positive energy students brought along with their resumes was met with with equal enthusiasm by the employers present. For faculty, meeting former students who are very satisfied in the professional careers is as rewarding as it gets. And judging from the number of organizations that have become annual subscribers to the fair, it is clear that the students are graduating with the knowledge and skills needed to launch their professional careers. As a representative from Honda R&D remarked "Our language program would not be where it is without your wonderful graduates!"