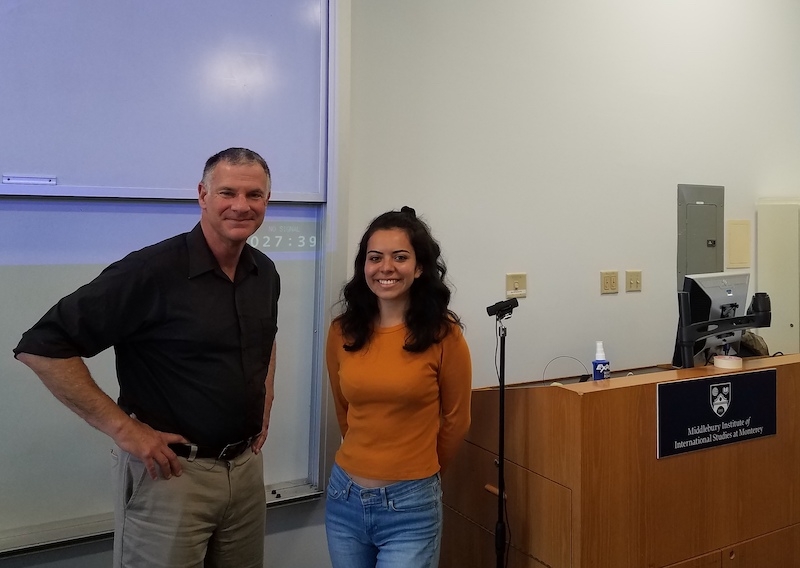 In a collaborative event between the Middlebury Institute student club, the MIIS Immigrant Rights Alliance (MIRA) and the Naval Postgraduate School, Dr. Jonathan Lipow, a national security economist and professor of economics, delivered a lecture on the impact of immigration on the United States economy. The presentation was held at the Middlebury Institute on October 16th, and attended by Middlebury Institute students and community members.
"You hear a lot about immigration, and most of what you hear is just plain wrong," was how Lipow began his presentation. "And the central question we need to ask is, do we want immigrants here, or not?" 
Lipow, who is a faculty member at the Naval Postgraduate School and an adjunct professor of economics at the Institute, went on to share his expertise on the economics of immigration, from the aggregate impacts of immigrant presence in the United States on income, wages and profits, the economy, to the impacts of immigrants on the environment, and their socio-cultural impacts. 
Despite public rhetoric to the contrary, Lipow said immigration raises the living standard measured by Gross Domestic Product, or GDP, and immigration has"no major aggregate impact on the incomes of U.S. born Americans. Furthermore, he told the audience, "immigration has a net positive on environmental impact."
Lipow also shared some of his own personal opinions on immigration, and encouraged attendees to ask controversial questions. He finished with a series of policy proposals on how to reinvent the current, extremely polarizing immigration landscape in the United States.
"Our best evidence tells us that encouraging increased immigration from [developing countries] is the most effective method of combating extreme poverty, and it literally pays for itself," he went on to argue, saying that no matter one's personal opinions on immigrants and immigration, we all want "a more prosperous country, and also a more prosperous world."
According to the club's president, Elizabeth Motolinia MAIPD '20, the mission of MIRA is "to be able to connect the community and MIIS together and engage around issues of immigrant rights." The club hosts a series of community events each semester related to issues connected to the topic of immigration. 
Middlebury Institute student Ariana Sawyer recently co-authored a report on immigration policies as part of her International Service Semester placement with Human Rights Watch in Los Angeles.
At the Middlebury Institute, there are numerous clubs and organizations through which students can find common interests, discover new passions and enhance their experiences.