City of Light Provides Perfect Practicum Experience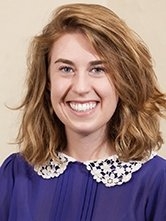 "I never dreamed of living in Paris, but I really love it," says international education management student Julia Kelley MAIEM '16, who is completing the practicum requirement for her degree the Middlebury School in Paris, France. A talented musician with undergraduate degrees in music and magazine journalism from Syracuse University, Kelley came to the Middlebury Institute after living in Lille, France for five years working on her music and teaching English.
"It has worked out perfectly," says Kelley, who spent the summer as an activities coordinator in Arles in the south of France, working with American students earning university credits. In Arles, she was able to get a head start on the deliverables she has for her last semester practicum. At the Middlebury School in France, Kelley works mostly with the students enrolled in the Paris program. The program is designed for students at an advanced level of French and Kelley says a large part of her job is to converse with students in French and host various informational sessions.
As part of her degree she is also working on an assessment of cultural programming and two projects related to communications. When we caught up with her recently, she was on her way to the Opéra Bastille. "I love how all my deliverables are directly connected to my career and personal interests," she says.
In October Kelley had the opportunity to participate in the Forum on Education Abroad European conference in Athens. "It was a really rewarding experience," Kelley shares, adding that she especially appreciated the chance to meet and interact with professionals in the field from all over the continent. She traveled with Associate Director and Undergraduate Academic Advisor for the Middlebury School in France Amy Tondu, who was one of the speakers at the conference. Overall she is very happy with her experience, and says it certainly helps that her "co-workers are really great!"