"Every Day is Something Different" for Recent Grad Working at UN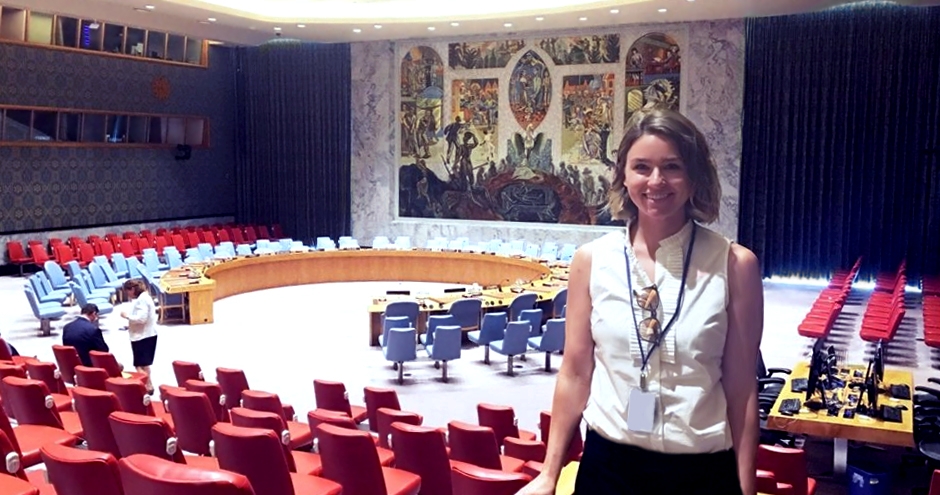 When the United Nations Security Council convenes a special meeting on Iran chaired by U.S. President Donald Trump later this week, one of the translators working in the building will be Amy Mendenhall MACI '18, a May graduate who achieved the rare feat of passing the UN's Language Competitive Exam for Translators before she had completed her studies.
"Every day at the UN is something different," says Mendenhall, a graduate of the Institute's Master of Arts in Conference Interpretation program. "Whether the subject is disarmament, financing for peacekeeping missions, reports of the Secretary-General, or communications between Member States, the learning curve is incredibly steep, but the challenge is what makes it fun."
Most Institute students don't attempt the extremely rigorous competitive exam until after they graduate. Mendenhall, who won the UN's St. Jerome Translation contest in her first year, passed the UN exam in the spring of her second year. After graduating in May, she was hired almost immediately at UN Headquarters in New York on a contract that extends through the end of the year.
Initially, Mendenhall spent a few months in the English Editing Section and "really enjoyed the work"; she believes editing might actually be the perfect fit for her, given what she ironically calls her "charming perfectionist tendencies." Mendenhall recently transitioned to the English Translation Service, where she is primarily covering the Second Committee of the General Assembly.
French Translation and Interpretation Professor Christiane Abel describes her former student as "exceptional in her ability to immediately incorporate in her practice what she had just learned; she 'got' it, always. She also has a vast knowledge of current affairs and a strong personality and is extremely resilient." Once the regular session of the General Assembly concludes, Mendenhall will be able to continue to freelance for the UN from anywhere in the world.
Mendenhall also recently had the opportunity to interpret for new French Minister of the Environment François de Rugy as he met with officials including: UN Environment Executive Director Erik Solheim; Patricia Espinosa, Executive Secretary of UNFCCC (UN Framework Convention on Climate Change); California Governor Jerry Brown; and former New York City Mayor Michael Bloomberg. "I absolutely cannot believe my life," she wrote to Abel afterwards. "I'm so thankful to you for training me to do this job. It is exactly as fulfilling as I hoped it would be."