As global communications across multiple platforms continue to broaden, the demand for professional translators and interpreters has increased worldwide.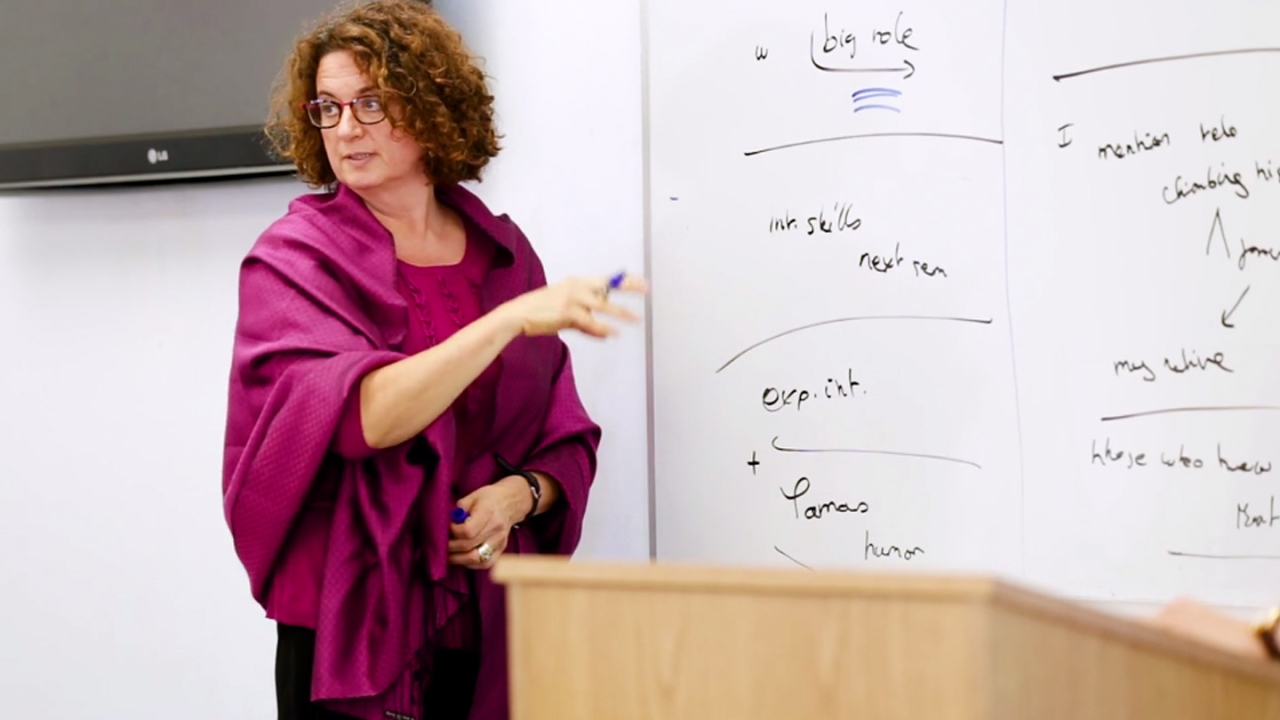 Anything written or spoken has the potential for translation or interpretation. Our master's degree programs in translation and interpretation are recognized worldwide for providing exceptional professional training. 
A Master of Arts in Translation prepares students to be expert translators across a wide domain of professional areas. A Master of Arts in Translation and Interpretation prepares students for careers including both translation and interpretation. And a Master of Arts in Conference Interpretation prepares students for careers focused on interpretation. All have a strong foundation in cross-cultural understanding and communication.
Find out if TI is right for you
Career-Oriented Course Work
Our curriculum develops key skills both in and out of the students' A and B languages. Students work with real-world texts, high-profile events, and live simulations in a variety of fields, and learn to use the latest translation technology and software. A professional practicum and career-oriented course work prepare you for lifelong skill-building and professional growth.
For those interested in pursuing more technological or project management skills, a specialization in Localization Management is available. Spanish interpretation students have the opportunity to pursue a specialization in Spanish Community Interpreting in addition to their degree course work.
See the curriculum for more details.
Faculty: Professors and Practitioners
Our faculty combine academic expertise with years of professional experience as translators and interpreters at intergovernmental organizations such as the United Nations, at the World Economic Forum, at the Olympics, for former first lady Michelle Obama, in the U.S. State Department, in the German Parliament, in literature and research, in nonprofit organizations, and in private businesses.
Together with career advisors, our faculty mentor students to ensure that they receive the academic and professional experience that will help them realize their career goals. Meet our faculty.
Advanced Entry: Two-Semester Program
Chinese
Each year, a group of highly qualified Chinese translation and interpretation candidates are selected for the Advanced Entry program, which allows them to complete the program in two semesters. These students have typically earned a master's degree from a recognized translation and interpretation program or have at least two years of relevant full-time professional experience.
Advanced Entry students test out of the first year of courses by passing a rigorous exam offered at a variety of test locations in China or on campus at the Institute. Find out more about our Advanced Entry in Chinese.
French, German, Japanese, Korean, Russian, Spanish
For all other languages, you may be eligible to complete the degree in only two semesters if you already have a master's degree from a recognized translation and interpretation program or at least two years of full-time professional experience, and if you test out of your first year of course work by taking the first-year final exams.
Choosing a Degree
Although you must select a specific degree when you apply, you will be exposed to aspects of translation, translation and interpretation, and conference interpretation during your first year. After these two semesters, you, your faculty, and your academic advisor will know more about your strengths and interests, and you can finalize your degree choice and focus your studies. They are all two-year, 60-credit programs.
MA in Translation
Anything that is written is a potential translation assignment. The MA in Translation prepares you to translate treaties, laws, and press releases; user manuals, bidding specifications, and engineering plans; novels, poems, and plays; handwritten letters, medical textbooks, and historical documents; and much more. The software and localization industry also relies heavily on translators to adapt programs and user manuals to other linguistic and cultural environments.
MA in Translation and Interpretation
Although translation and interpretation have much in common, the practice of each profession requires different skill sets. A translator renders the written word from one language to another. An interpreter renders the spoken word from one language to another. Some employers, unaware of the distinction, expect you to be able to perform both tasks. The MA in Translation and Interpretation prepares you to work as a professional language expert in both fields.
MA in Conference Interpretation
A conference interpreter is a multilingual communication expert who conveys the meaning of a speaker's message orally and in another language to listeners who would not otherwise understand. Conference interpretation enables participants in a multinational meeting to communicate with one another in a seamless fashion, making the language barrier almost imperceptible. Our MA in Conference Interpretation prepares you to interpret in two modes: consecutive and simultaneous. 
Language Pairs
Students entering any of the programs choose to focus on one (or two) of the following languages, all paired with English. Each program has skill-based and language-specific courses, experienced faculty, and extensive access to internship and employment opportunities.