Faculty Panel Offers International Perspectives on U.S. Election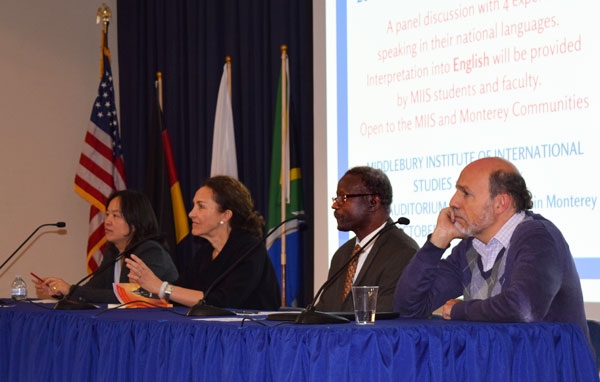 In the flood of commentary on this year's hard-fought and often tumultuous presidential election, an important perspective has been neglected here in the U.S.: what does the rest of the world think? On October 27, a quartet of Middlebury Institute professors—hailing originally from Mexico, Sénégal, the People's Republic of China, and Russia—offered their own distinctly international perspectives on the election.
Leading off, Professor William Arrocha referred to elections as "the maximum expression of people's sovereignty" while lamenting "one of the most dishonest and darkest campaigns in the history of the United States." Arrocha identified two critical deficits in the campaign conversation: that "the rest of the world doesn't exist" in many of the candidates' policy proposals, and that "we've seen no discussion of policies affecting Latin America."
Regarding the historic nature of Hillary Clinton's candidacy, Professor Edgard Coly noted that there is nothing especially novel for Africans about the prospect of a female leader; "we have had female heads of state for 20 years. Africa is not impressed." Coly added that Africa is very concerned about issues of racial injustice and prejudice against African-Americans and American Muslims, noting that "Demographics are changing rapidly in the U.S., and that makes the majority uneasy."
China generally prefers Republican presidents, according to Professor Wei Liang. "They believe that historically, Republican presidents are friendlier and more interested in cooperation, rather than focusing on human rights issues and Tibet." Liang said "Chinese citizens see Donald Trump as interesting, candid, frank, and kind of charming," and view his criticism of America's trade deficit with China as an acknowledgement that "China is rising."
According to Professor Anna Vassilieva, Russia also generally prefers Republican presidents because "they are considered more pragmatic." Trump is viewed by many Russians as somewhat of a kindred spirit: "Russians are very straightforward people, they mean what they say and say what they mean. They see that in Trump." As far as his attitudes toward women, "Trump's words and actions are considered shocking in the U.S., but not in Russia, where chauvinism is common and his behavior isn't considered unusual."
The well-attended panel discussion was organized and moderated by Professor of French and European Studies Michel Gueldry. Reflecting the Institute's focus on language and intercultural communication, the four professors each spoke in their respective national language (Spanish, French, Chinese and Russian), with all four languages interpreted into English by students, and all English comments interpreted back into the above four languages.
Interpreters working the event included: Rebecca Clingman MATI '17 (English/French), Meredith Sopher MATI '17 (English/French), Paula Tomé Palle MACI '17 (Spanish/English/French), Shaofang Xu MATI '17 (Chinese/English), Shanshan Wu MATI '17 (Chinese/English), Xin Zhang MATI '17 (Chinese/English), Nathan Rhodes MACI '17 (English/Spanish), Ashley Renee Riggin MATI '16 (English/Russian), Professor Dmitry Buzadzhi (English/Russian), Hong Yu MACI '17 (Chinese/English; co-Chief Interpreter), and Dolly Zhao MACI '17 (Chinese/English; co-Chief Interpreter).