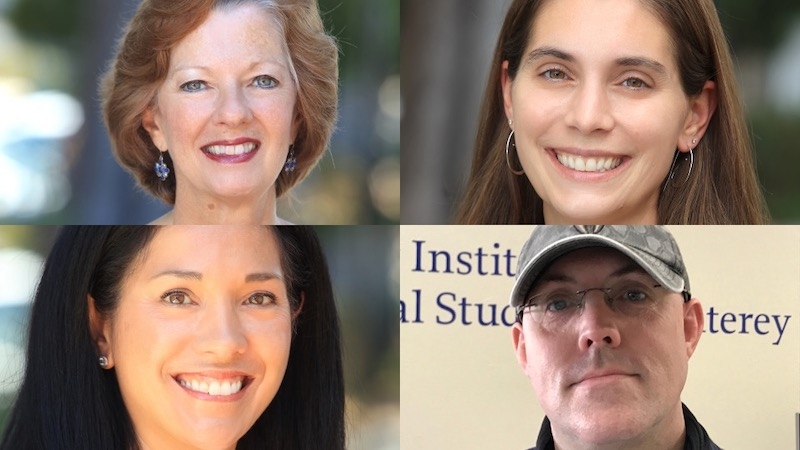 Four staff members, Barbara Burke, Regina Garner, Kelly Cole O'Connell, and Jeremy (Baken) VondenBenken are the recipients of the 2020 Above and Beyond Awards, recognizing their exceptional dedication to the Middlebury Institute and its mission.
 
Established in 2006, the awards recognize staff members who go above and beyond normal duties of their position. Towards the end of each year, faculty and staff nominate staff members who follow the criteria of consistently providing outstanding customer service, are willing to perform tasks outside of their normal job duties as needed, work to innovate and streamline processes, and are considered the go-to person in their area.
Before announcing the 2020 awards at the November 17 virtual all staff and faculty meeting Vice President for Academic Affairs and Dean of the Institute Jeffrey Dayton-Johnson said that while it could be argued that all staff deserved special recognition in this unprecedented and challenging year when our community as a whole responded to a global pandemic by going above and beyond their traditional duties, - that in a year like this, there was possibly an even greater than ever reason to celebrate those who stood out.
"Barbara exemplifies the caring spirit of community and support at MIIS, a spirit that is much appreciated and cherised," a colleague wrote in their nomination of Barbara Burke, executive assistant to the Vice President. Another shared appreciation of her "incredible level of organization, attention to detail, and willingness to step above and beyond during this time of crisis," adding that she has had "an important impact on every single member of our community."
Of Director of Student Financial Services Regina Garner one person shared that not only is she exceptionally competent in her job, totally trustworthy, and a creative problem solver, but that she has a wonderful sense of humor that makes working with her so much fun. Another person wrote that Garner "does not hide behind a process, but figures out a way to create a new one to make it possible for students to do what they are hoping to do."
Kelly Cole O'Connell assistant director of International Student and Scholar Services was praised for her willingness and ability to master complex issues related to international student services in this unusual year, providing outstanding services for both undergraduate students at Middlebury College and graduate students at the Middlebury Institute, and for readily adjusting her work hours to accommodate students in different time zones. "Kelly is a valued team member and an extraordinary asset to the Institute," one colleague wrote.
"He is aways cheerful and ready to help in any way he can," one colleague wrote, describing Event Logistics Coordinator Jeremy (Baken) VondenBenken. Another staff member took note of the many ways VondenBenken stepped up in response to the pandemic, "taking on new and evolving responsibilities in campus management and caretaking that likely reached far beyond his regular tasks."
Each award winner receives a certificate and $500 in cash.
The Middlebury Institute honored the contributions of staff and faculty who have served the school for over five years at a recent online event.
 
Middlebury Institute staff members Trish Aportela, Alisyn Gruener, Andrew Hernandez, and Jennifer Peck are the recipients of the 2019 "Above and Beyond" Awards, recognizing their exceptional dedication to the Institute and its students.
 
Professor Thor Sawin is the 2020 recipient of the Middlebury Institute's Faculty in Excellence Award, recognized for his positive impact on students, modeling to them "the highest standard of being a professional, teacher, and kind human being."