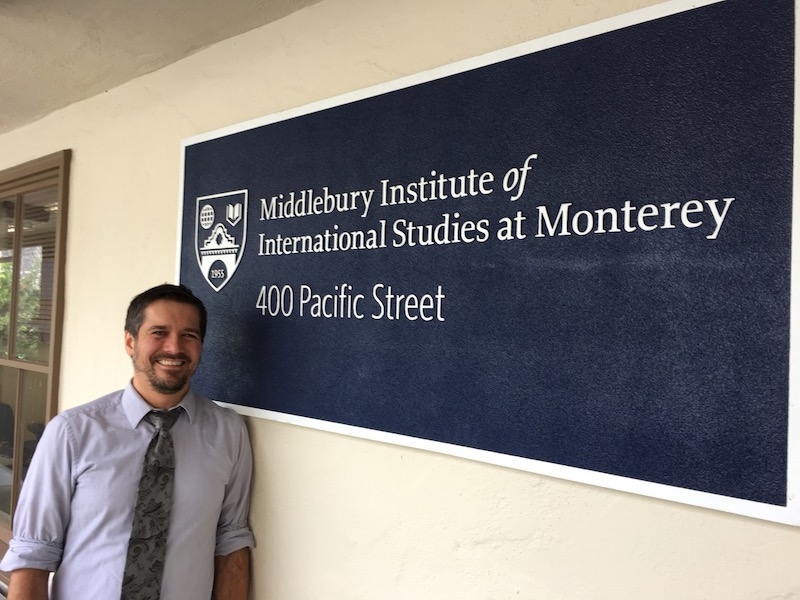 The winner of the 2020 Middlebury Institute Faculty Excellence award is Thor Sawin, associate professor in the Teaching English as a Second Language (TESOL) and Teaching Foreign Language (TFL) degree programs.
 
In his announcement to the community earlier this week, Vice President Jeffrey Dayton-Johnson wrote that "committee members were impressed with their observation of Sawin's classroom teaching, as well as his course evaluations, and applauded him for going "above and beyond" in the classroom."
"Thor teaches his students to embody hospitality and intercultural communication, and embodies it in his own teaching," Dayton-Johnson shared in the announcement. "He artfully incorporates the values outlined in his teaching philosophy into his classroom instruction, putting students at ease while instilling a sense of agency. Thor's model to his students are the highest standard of being a professional, teacher, and kind human being. His respect for students is palpable and is further modeled in student-to-student interactions. The positive impact he has on his students and his dedication to the Middlebury Institute have earned the respect of all who know him."
In an interview he gave to the Communiqué shortly after he started teaching at the Institute in 2014, Sawin described himself as "the guy who will be found talking passionately about vowels at a dinner party." He said that he could sum up his approach to language teaching with two words: hospitality and wonder. Hospitality because when you speak a language well, people feel welcome, even loved. "Learning a language is one of the deepest forms of respect you can extend to another culture." And the wonder he described as coming from the beauty in the ways language systems work.
"Earning this award for the academic year 2019-2020 is especially meaningful," Sawin, who also serves as President of the Faculty Senate says and adds, "as that school year was one of the most turbulent in the Institute's history. Throughout the tensions of a changing faculty, students scattering across the country and globe, longed-for experiences getting cancelled, and rapid shifts to online teaching, the students at MIIS - as has been consistently true - showed up with their attitudes of charity, their fearlessness to experiment, and a renewed urgency about how necessary an internationalist and multicultural education is. Serving these students the past 7 years has been an incredible responsibility and a deep wellspring of joy."
Nominations for this annual award were opened to the campus community on February 3rd, and closed a month later, on March 4th. However, the process was interrupted by Covid-19, and then resumed in the fall, when the nominees were considered by a committee of two faculty members, two students, and one member from the Institute Leadership Group. As this year's recipient of the Faculty Excellence Award, Professor Sawin will receive a cash award and will be invited to give the December 2020 Commencement address.
"Learning a language is one of the deepest forms of respect you can extend to another culture," says Thor Sawin, member of the Middlebury Institute TESOL/TFL faculty.
The Middlebury Institute's annual Faculty Excellence Award for 2018 has been awarded to International Education Management Professor Anne Campbell.
Professor Philip J. Murphy was announced as the recipient of the Middlebury Institute's 2015 Leslie Eliason Excellence in Teaching Award, and lauded for his "innovative, generous, and collaborative approach to teaching."