Prepare for your leadership career in language education with a master's degree from one of the world's leading programs.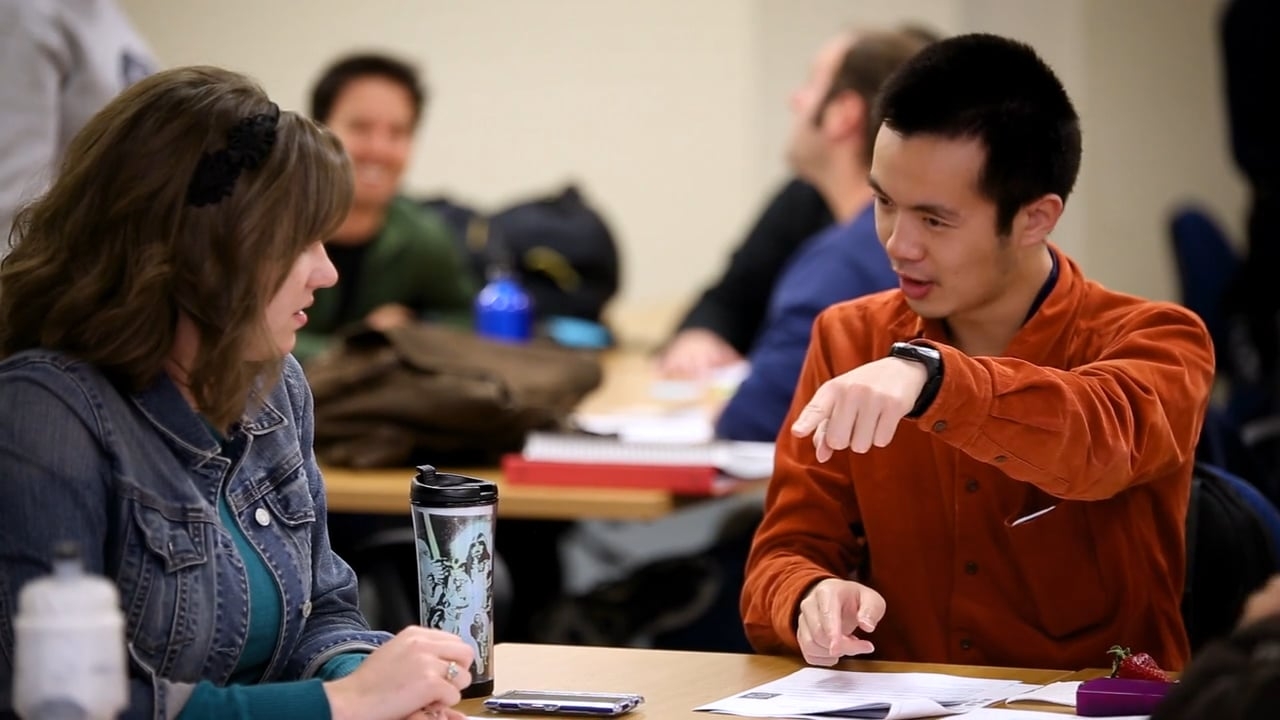 Advance Your Career
Our TESOL and Teaching Foreign Language (TFL) degrees are career-focused master's, taught on our Monterey campus with a one-year hybrid option. Our graduates are in high demand from schools and universities around the world. You'll be prepared not only to teach but to train other language teachers, conduct research, develop curricula, manage language programs, and lead in the various fields of language education.
Find out if TESOL or TFL is right for you
What You'll Learn
Our rigorous curriculum, taught by renowned language education experts, will deliver a balance of pedagogy, theory, research, and assessment—all of which will expand your career opportunities. Several course projects will get you into the field to put what you've learned into practice in a professional setting.
With language learning technology integrated throughout our courses, you'll explore today's innovative tools and help develop tomorrow's.
Earn the 40-credit TESOL or the 42-credit TFL in three semesters or in just one year with our one-year hybrid option. You are able to add a career-oriented specialization in a fourth semester.
If you have previous TFL, TESOL, and/or linguistics course work, you may benefit from our advanced entry option.
See curriculum for more details.
$

15

K
guaranteed annual scholarships
99

%
employed within one year of graduation
Customize Your Degree
What is the difference between
TESOL

and

TFL

?

These two degree programs are designed to share faculty and courses, and students take the majority of their classes together so you'll benefit from collaboration across languages and cultures.
One-Year Hybrid Option
You may be able to complete your final two courses (Applied Linguistics Capstone and the Practicum Capstone) online during the summer after your second semester, thus completing the program in just one year (fall, spring, then summer).
Not only will you be able to graduate faster, but the online option means that you will be able to move to your preferred location before you graduate and practice teaching in a context that closely aligns with your career goals.
The Teaching Foreign Language one-year hybrid option is only available if you are an advanced entry student, meaning you have transferable graduate credits from another university or if you have taken 400-level language courses at Middlebury College.
Licensure
While attending our TESOL or TFL program, you can work toward licensure through the State of Vermont's peer review process. Students who are interested in teaching in K–12 public schools, some private schools, some international schools, and some adult schools will likely want to be licensed. Learn more about the licensure process.
Specializations
You are able to add a career-oriented specialization in Language Program Administration, Teaching English to Speakers of Other Languages (for TFL students), Teaching Foreign Language (for TESOL students), International Education Management, and Intercultural Competence in a fourth semester.
Research and Practice
Both TESOL and TFL students have multiple and varied opportunities to put theory into practice through internships and professional experiences. You may copublish with faculty, work in our language programs, help plan our annual language conference, integrate Peace Corps service into your degree, and more. Learn more about experiential learning opportunities.
A Degree Worth Investing In
Earn your TESOL or TFL master's at the Institute and you'll graduate with the capacity to take on many leadership roles in language education. Join the ranks of our successful, in-demand TESOL and TFL alumni, who were recruited by employers before they even completed the program.
We guarantee a minimum $15,000 scholarship per year, prorated by program length, if you request scholarship consideration in your online application to either the TESOL or the TFL program. That's how much our generous donors believe in our program and in the work our alumni do in the world.
You may also receive additional merit and need-based scholarships, depending on your financial situation and the strength of your application.
Learn more about our generous scholarships, grants, and other aid.
Professors and Practitioners
You will be taught by exceptional faculty with years of professional experience in organizations such as the TESOL International Association, the American Association for Applied Linguistics (AAAL), the American Council on the Teaching of Foreign Languages (ACTFL), and the International Research Foundation for English Language Education (TIRF).
Your professors are genuinely committed to your success and dedicated to modeling effective pedagogy in their own teaching. They will be active mentors and colleagues to you while you are a student and throughout your career. Meet your faculty.