Next Application Deadline April 1
Master of Arts in TESOL and Master of Arts in Teaching Foreign Language
Launch your career as a leader in language education.
Our TESOL and Teaching Foreign Language (TFL) master's degrees give you valuable professional experience while you earn your degree. You'll be prepared not only to teach but to train other language teachers, conduct research, develop curricula, manage language programs, and lead in the various fields of language education. 
We guarantee a minimum $15K annual scholarship for admitted students.
Start Term

Credits

Duration

In Person

Online

In person: Fall or spring
Online: Summer
TESOL: 40
TFL: 42
3 semesters
(12–16 months)
Monterey, California
Asynchronous
Find out if TESOL or TFL is right for you
Study In Person and/or Online
We offer the TESOL and Teaching Foreign Language degree programs in the following formats—choose the program that works best for you:
The faculty, curriculum, and per-credit cost are the same in any format of either program so you will have the flexibility to study online or in person, or switch between the two experiences as your personal and professional needs allow.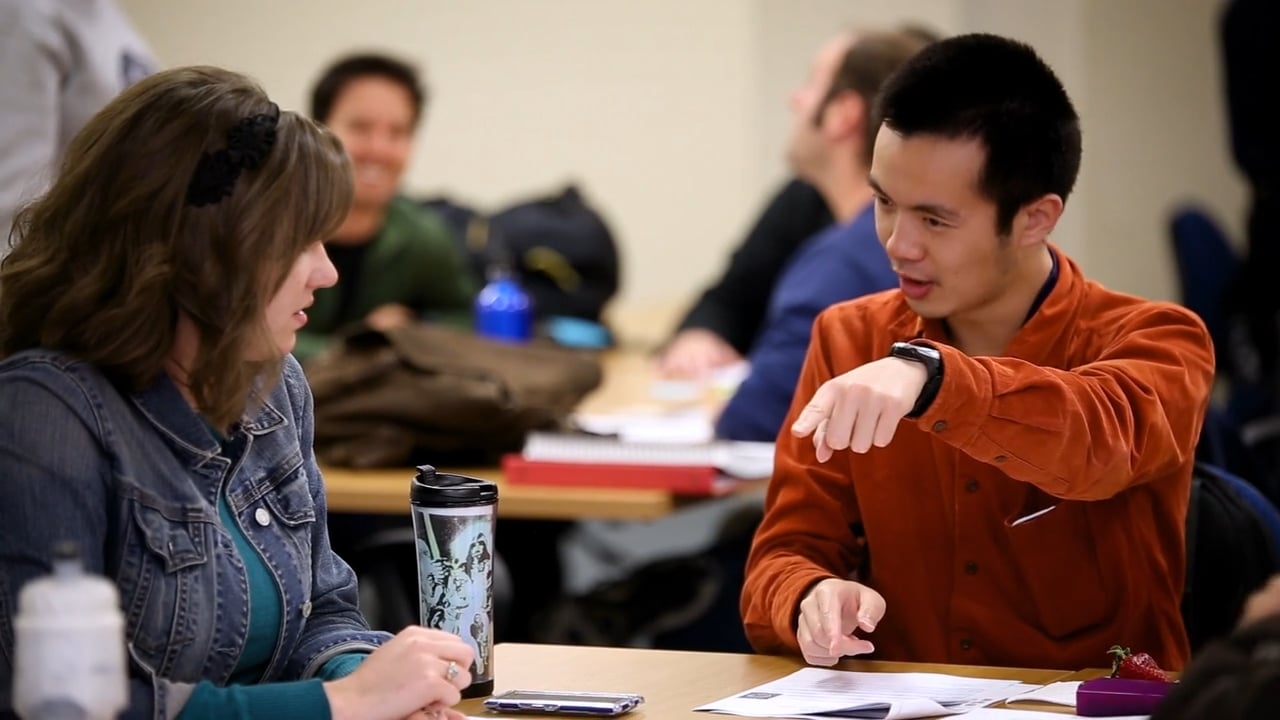 Advance Your Career
Career and Academic Advising
We coordinate your career and academic advising, making sure your coursework aligns with your career goals. Your advisors will guide you from course registration to preparing for interviews and negotiating new career opportunities.
Practical Experience
You will build valuable professional experience while you earn your degree through working in our language programs and taking semesterlong practicum and capstone courses.
Careers
You'll graduate with the capacity to take on many leadership roles in language education. Join the ranks of our successful, in-demand alumni, many of whom were recruited by employers before they even completed the program. See how they are thriving in their careers.
One Year After Graduation
Curriculum
Our rigorous curriculum is taught by renowned language education experts. It balances coursework in the domains of language, pedagogy, and research, with the goal of expanding your career opportunities. You will learn to effectively teach languages to in-person and online students.
You will develop teaching practices that enhance your students' language learning, create instructional units and lessons that maximize your effectiveness in the classroom, and design research studies and assessment tools to highlight the most relevant opportunities for improvement. Your capstone courses will strengthen your expertise, integrating all of the learning from your program.
Earn the 40-credit TESOL or the 42-credit TFL in three semesters or in just one year with our one-year hybrid option.
See curriculum for more details.
$

15

K
GUARANTEED ANNUAL SCHOLARSHIPS
Customize Your Degree
You will have numerous opportunities to customize your degree and put theory into practice. If you have previous TESOL, TFL, and/or linguistics coursework, you may be able to complete your degree in fewer credits through our advanced entry option. You can switch between in-person and online options, and part-time and full-time course loads. You may pursue a career-related specialization, copublish with faculty, work in our language programs, help plan our annual language conference, integrate Peace Corps service into your degree, and work toward earning your teaching licensure.  Check out the program details for your options.
What is the difference between TESOL and TFL?
These two degree programs are designed to share faculty and courses, and students take the majority of their classes together so you'll benefit from collaboration across languages and cultures.
Professors and Practitioners
You will be taught by exceptional faculty with years of professional experience in organizations such as the TESOL International Association, the American Association for Applied Linguistics (AAAL), the American Council on the Teaching of Foreign Languages (ACTFL), and the International Research Foundation for English Language Education (TIRF).
Your professors are genuinely committed to your success and dedicated to modeling effective pedagogy in their own teaching. They will be active mentors and colleagues to you while you are a student and throughout your career. Meet your faculty.
Scholarships and Financial Aid
Guaranteed $15K Scholarships
We guarantee a $15,000 scholarship per year (prorated by program length and part-time credits) if you request scholarship consideration in your online application.
Additional Scholarships
You may also receive additional merit, need-based, partner, and external scholarships, available for both U.S. and international students. Your personal enrollment advisor can help you think through financing this important investment in your career development.
Scholarships and financial aid are available. Review tuition costs.
How to Apply
We take a holistic approach when considering your application by looking at your academic background, international exposure, professional experience, and career goals. We welcome applicants with or without teaching experience, and our program has numerous opportunities for you to gain professional teaching experience before you graduate.
Admission requirements for our online TESOL program are the same as the in-person TESOL program. We do not require GRE or GMAT scores for our master's programs but competitive scores may strengthen your application and positively influence scholarship decisions. Learn how to apply.
TESOL alumnus Don Hansen describes how networking and honing his elevator pitch helped him land his teaching jobs.

| by Jason Warburg

The Middlebury Institute campus community gathered on Saturday to celebrate the accomplishments of 83 graduating students from 10 countries at Winter Commencement.

| by Jessie Raymond

Representing the Institute's teacher training consulting arm, Martel traveled to the Oklahoma tribal college this summer to support its Muscogee language curriculum.