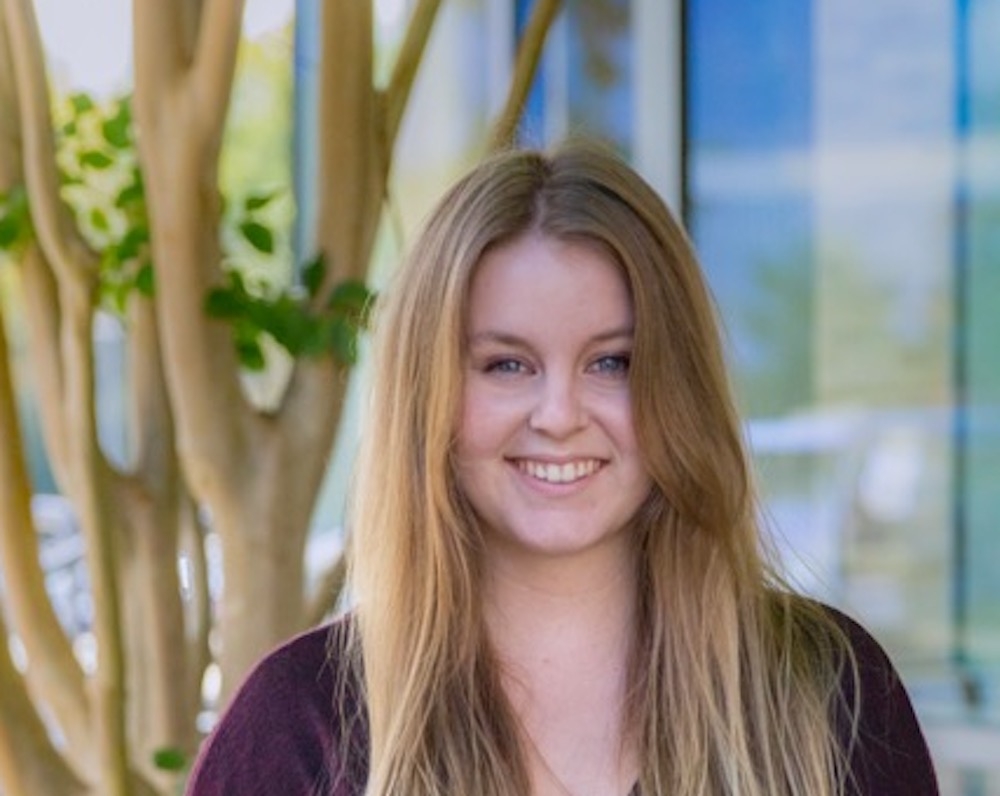 International Education Management alumna Whitney Miller MAIEM '16, assistant marketing and recruitment manager at INTO George Mason University shares her at the Institute and beyond.
Brief description of organization
INTO George Mason University is a joint venture between George Mason University and INTO North America. INTO Mason's unique programs for international students provide tailored academic and English language instruction coupled with a highly supportive learning environment that supports adjustment to life in the U.S. and long-term academic success.
What is the most fulfilling aspect of your current work?
There are so many fulfilling aspects of my current position.
I travel 50% of the year all over the world - working with professionals and meeting with prospective students and parents.  In certain ways, I consider my job "adult study abroad" because I travel with locals, learn about their culture, and get an insider's look into the cities that I am visiting.  I've been to Azerbaijani weddings, road-tripped through Armenia, used my second language professionally for the first time, and caught my own dinner in Indonesia.  
As part of my job, I oversee and award our center scholarships.  Over the past year I have created two different need based scholarships to increase the diversity of George Mason and help students attend the university who would not otherwise be able to afford it. It is amazing to work with talented students and be able to give them financial aid when necessary.  
Finally, meeting and working with students when abroad, and seeing them in our center the following semester is incredibly fulfilling.  I know that through my position, I have directly helped these students through the admissions process into an incredible school that will support them through their degree and beyond.
What do you find most challenging working on the international recruitment side?  
The most challenging part of my job (also the most interesting for me!), is understanding each culture I work with and then utilizing international competencies to  effectively work with them.  I recruit worldwide, and on any given day I am speaking to people on six different continents, so it can a bit overwhelming at times.
What aspects of the International Education Management program most prepared you for your professional life?
Every single class prepared me in one way or another...
The Marketing and Recruitment course, of course, helped prepare me for this position specifically.  As part of my application to this position, I included my teams final Marketing & Recruitment project.  
Staff Management helped in more ways than I can express.  Managing up?  Yes.
Law of Higher Ed helped me understand the complex laws that I need to be aware of when speaking to students and working with them in center.  
Finally, the work experience that I gained in my Practicum was invaluable.  My hiring manager told me that the website that I designed during my Practicum was one of the factors that led to my hiring.  The website also won the 2017 GoAbroad Innovation Award in Marketing and Digital Media.
And yes, I do kick myself every day for not taking Katherine's ISSS course.
Did your career path diverge from initial plans upon graduation? How did you navigate any changes?
Yes, my career path diverged from my initial plans. I originally wanted to do Education Abroad to help students have the same life-changing experience that I had when I studied abroad. Switching over to International Recruitment was a bit challenging, but there are quite a few similarities between the two sides of international education, so the transition was fairly smooth. Honestly, I am so happy that I ended up going into International Recruitment.
What are the greatest challenges that you see facing the field of international education?
The current political climate around the world makes our jobs very difficult.  I often get asked about safety in American schools and how open people are to international students.  I also get asked by friends and family about the safety of my travels.  Just the fact that people have to ask, or even worry about safety studying and traveling abroad speaks to the difficulties that we face in the future. I think that in this field, we are all working towards better understanding and intercultural competencies around the world.  I am very passionate about giving students the opportunity to learn about the world and receive education, and I believe that the work we are all doing can only lead to better understanding between nations.
Do you have any additional comments or advice to share?
You might think that you will be done with reflection papers when you graduate, but you would be wrong. Maybe this will be my last...
Middlebury Institute Professor and International Education Management Program Chair Katherine Punteney was honored with the Service in International Education Award at the Association of International Educators (NAFSA) Region 12 Conference.
Local high schools students were invited to the Middlebury Institute campus on Friday for the eighth year to participate in a wide-ranging program designed to introduce them to the many benefits of an international education.
Close to 40 Monterey Institute students and faculty members from the International Education Management program attended a recent NAFSA: Association of International Educators conference, with eight presenting there.