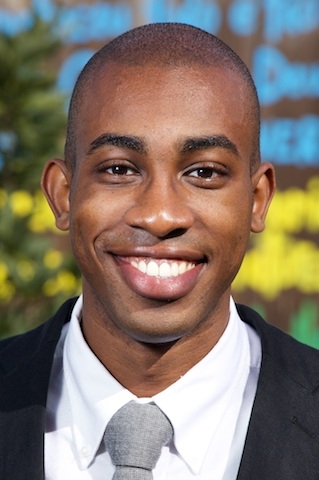 Name: Reginald Spence
Graduation Year: December 2015
Degree: IEM
Current Title: Program Manager
Name of Organization: NYU Steinhardt Office of Global Affairs
 
What is the most fulfilling aspect of your current work?
New York University has an extensive network of three global campuses and eleven global academic centers that my team leverages when we plan our short-term study away courses with Steinhardt academic departments and faculty. In many ways, this gives me the opportunity to collaborate across borders with other NYU staff and administrators through various media on delivering global learning experiences and research for faculty and students. In many ways, I'm learning to approach my work through a global lens to collaborate effectively with my colleagues abroad. Additionally, the opportunity to travel on some of the programs gives me a better understanding of the infrastructure required to make a program a success.
What aspects of the International Education Management (IEM) program most prepared you for your professional life?
One aspect of the international education management program that helped to prepare me for my professional role in international education is the hands-on experience of working with study abroad offices and third-party providers. For example, in my design and assessment course, my team collaborated with the Japan Center for Michigan Universities (JCMU) on developing a re-entry program that gives their students the opportunity to recognize, communicate and leverage their study abroad experience in many facets of their life. Recently, this experience helped me when I joined the New York Metro Study Abroad Group (NYMSAG) committee to help plan our second annual Back to the Big Apple - Life After Study Abroad conference in New York City. I was able to approach my planning based on best practices in helping students to reflect on there study abroad experience and identify key strengths or skills that they have developed in order to communicate that in resumes and interviews. Another aspect of the IEM program I benefited from was learning how to conduct informational interviews with leaders in the international education field gave me renewed confidence during the program to be able to network with other professionals, especially at regional and national conferences. This skill important skill is what ultimately help me land my current role as a program manager at NYU Steinhardt Office of Global Affairs. I hope that the IEM program continues to incorporate this aspect of the curriculum to prepare current and future IEM students to break into the industry.
Did your career path diverge from initial plans upon graduation? How did you navigate any changes?
I'm fortunate enough that my career trajectory hasn't diverged from my initial plans after graduation. In fact, I feel I'm on the right path to achieve my dreams of becoming director of a study abroad office. At the moment, a lot of my work focus on delivering short-term study abroad experiences to graduate students at NYU Steinhardt. Currently, my team and I over 30+ short-term study abroad programs - courses that are interdisciplinary in focus and invite participation from graduate students across the university to study in locations around the world. In the near future, I do hope to transition to a role that would encompass working with undergraduates and oversee some of our many semester and academic year-long study away programs.
What are the greatest challenges that you see facing the field of international education?
A major challenge concerns the enrollment and retention of international students on campus. Since 2016, the Trump-administrations introduced new policies that restrict or prevent people from many nationalities from entering the country in pursuit of higher education - the Muslim ban signed through executive order is a prime example of this. More recently, an executive order was signed by the president further restrict the highly-skilled workers to the U.S. by introducing new monitoring systems that could limit the number of H-1B visas granted. Many international students study in the U.S. with the hope to find future employment after graduation. With this policy in place, it could make studying abroad in the U.S. a less attractive option causing student enrollment numbers to decrease and impact overall tuition revenue that many colleges and universities heavily rely on to stay afloat. I hope that through continuous advocacy and lobbying efforts pushed forth by university and college stakeholders that these policies are reversed to allow for a more open society with diverse perspectives and learning experience.
Do you have any additional comments or advice to share?
The Middlebury Institute IEM program was a wonderful experience that opened up new doors that allowed me to collaborate with like-minded peers who are advocates for cross-cultural understanding and diverse perspectives on campus and beyond.
Erika Quiñonez MAIEM '17 works as Study Abroad Coordinator at the University of Miami, a private research university with more than 17,000 students, serving undergraduate and graduate students in more than 180 majors and programs. 
International Education Management alumna Whitney Miller, assistant marketing and recruitment manager at INTO George Mason University shares her at the Institute and beyond.
"The most challenging part of my job (also the most interesting for me!), is understanding each culture I work with and then utilizing international competencies to  effectively work with them."
Middlebury Institute alumnus Brian Peckrill MAIEM/MPA '16 is senior program manager at WorldChicago where he oversees all youth programs and business development for the nonprofit organization. He shares his experience in the international education management degree program and beyond.