IEM Students Turn Report into Real-Life Project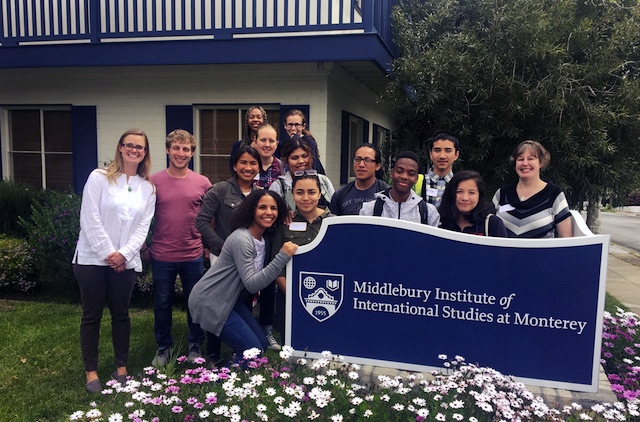 "The Middlebury Institute is all about practical applications, so we thought, why not make this a real project?" says International Education Management student Ashley Bayman MAIEM '18. She and classmate David Austin MAIEM '18 last week hosted twelve students from Monterey High School for a field trip to the Institute campus where they participated in a full-day schedule designed to provide them with insights into the benefits of an internationally focused education.
The idea for this project came to Bayman and Austin earlier this semester when they participated in Katherine Punteney's "Internationalization K-12" course where students produced professional reports and projects to help the local Monterey High School in its implementation of their International Baccalaureate curriculum.
"The purpose of our project, called 'Empowering Kids to Make a Difference in the World,' was to produce a list of best practices for helping kids feel empowered to make a difference on global issues, with an emphasis on extra-curricular programs and non-formal education," says Bayman. After thinking that it would be perfect to design a program for high school students to engage with the Middlebury Institute community, they presented their proposal to professor Punteney who immediately offered her support. The students experienced an Intercultural Communications Courses and participated in a class discussion on the topic of culture shock. After a campus tour they had the opportunity to interact with a panel of five students from different degree programs who talked about their studies and shared career options. "Our hope is that this project transforms into real opportunities for the students in the future."