Institute Celebrates Peace Corps Week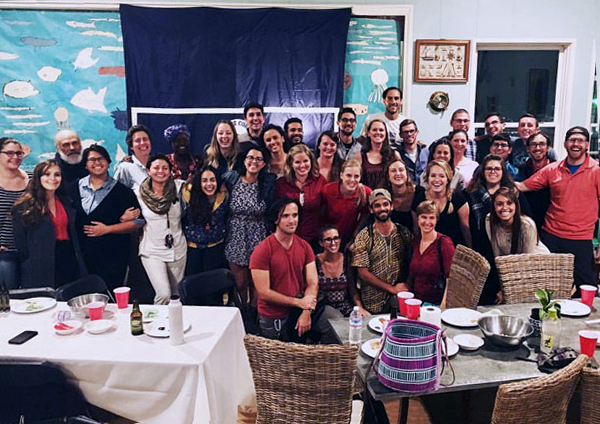 Anyone wondering why Peace Corps Week (February 26 – March 4) is generally celebrated with great enthusiasm on the Middlebury Institute campus should take a moment to review the numbers:
The organizations have partnered on a range of programs for more than 20 years;
33 current students are Peace Corps Fellows;
29 current students are enrolled through the Peace Corps Masters International program; and
18 current or former faculty and staff are Returned Peace Corps Volunteers (RPCVs), including Graduate School of International Policy & Management Dean Kent Glenzer and Development Practice & Policy Program Chair Beryl Levinger.
This week, members of student Peace Corps Club will participate in a variety of activities, including a special online discussion for prospective students (March 2 at 10:00 a.m. Pacific time, contact communications@miis.edu for more information). The online discussion will feature current students Patrick Kennedy MAIEM/MPA '18 and Amelia Arnold MAIPD '17. Kennedy's Peace Corps service took him to Guatemala, where he taught life skills to middle school youth in rural communities. Arnold served as a community health volunteer in Togo.
The Paul D. Coverdell Peace Corps Fellows program is a graduate fellowship program that offers financial assistance to RPCVs and requires them to serve an internship in underserved American communities, "allowing them to bring home and expand upon the skills they learned as Volunteers." Last semester, fellows enrolled at the Institute logged 2,632 community service hours.
Under the Peace Corps Master International Program, partner schools offered partial scholarships to students planning Peace Corps service, allowing them to begin school, serve their 27-month term, and then return to complete their master's degree. While the Corps has retired the PCMI program, the Institute is one of a handful of schools nationwide that have stepped in to establish a comparable program of benefits for students who want to integrate Peace Corps service into a master's degree.
Peace Corps Week commemorates President John F. Kennedy's establishment of the Peace Corps on March 1, 1961. The director of the Peace Corps has visited the Institute's Monterey campus twice in recent years: Director Aaron S. Williams was the Spring Commencement speaker in May 2011, and Director Carrie Hessler-Radelet was the guest of honor at a special Peace Corps event on campus in September 2016.