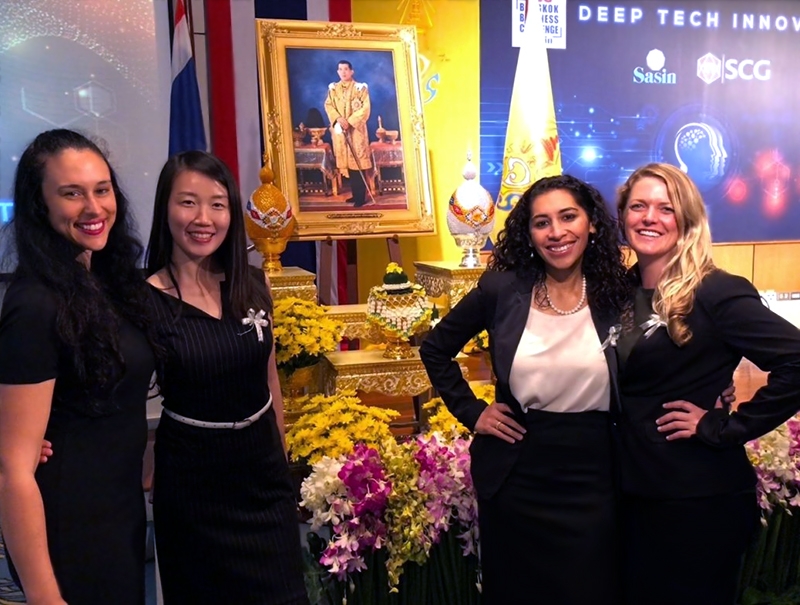 A team of four students representing the Middlebury Institute participated in the final round of the Sustainability Category of the Bangkok Business Challenge @ Sasin and were part of four runner-up teams.
Jillian Flavin MBA/MAIEP '18, Ruth Lai MBA '18, Celina Lima MAIPD/MBA '18, and Khadija Hafiz MAIPD/MBA '18, were "thrilled" to have been selected as finalists. They are more than satisfied with the results and look forward to progress with their idea in the future. The winning team was from the University of Cambridge, with a model to use hydrogen to provide electricity and water at off-grid areas.
"We had the opportunity to meet people from around the world who are creating innovative tech-based start-ups to solve the world's most pressing problems, like water availability and greenhouse gas emissions," shares Flavin. "Our product and business model increase financial security and inclusion, which has the ability to truly change lives and create resilient communities around the world."
The team advanced to the finals of the Sustainability category with their "Buy One Help One" concept which targeted millennial customers, giving access to an insurance marketplace and providing the opportunity to insure individuals in under-insured areas throughout the world.  The group's project was based on the ideal of "Insure Goodness".  
Reflecting on the experience, Khadija Hafiz said: "The Bangkok Business Challenge was an incredible opportunity to harness our skills in entrepreneurship and learn from experts in the field. We benefited tremendously from the judges' feedback and exposure to the start-up environment." 
The team intends to continue to pursue the business idea and will compete in more business plan competitions in the future.
A team of four Middlebury Institute students won the Business for a Better World international case competition in Davos, Switzerland today, beating out teams from 20 other universities with a "stunning" presentation.
A team of four Middlebury Institute students has advanced to the final stage of the Bangkok Business Challenge, beating out a "historic number of applicants."
Four students from the Middlebury Institute's MBA program won the international Business for a Better World Case Competition in Davos, Switzerland.