Middlebury Institute Students Win Two of Six Student Prizes in UN Translation Contest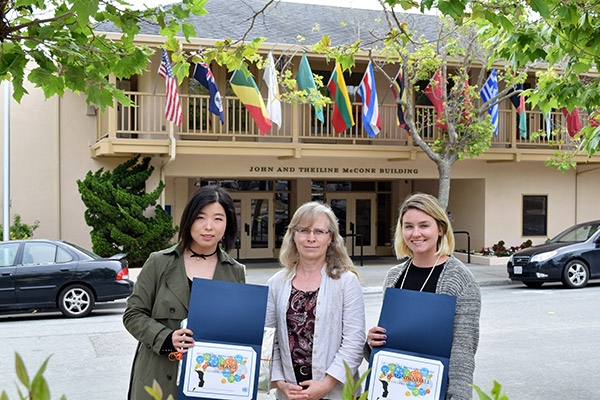 A pair of Middlebury Institute students won two of the six available student prizes in the United Nations' annual St. Jerome Translation Contest, with Shuai (Ivy) Wang MATLM '17 taking the student prize in the Chinese category and Amy Mendenhall MACI '18 winning the same prize in the English category. Dean Renée Jourdenais of the Graduate School of Translation, Interpretation, and Language Education was present at the United Nations for the awards ceremony on April 21 and re-presented the award certificates to Wang and Mendenhall upon her return to Monterey earlier this week.
"When I heard the news I was excited," said Wang. "I mostly entered the contest because of my personal interest in translation, but I do think this could be helpful for my career."
The UN's annual St. Jerome Translation Contest is open to all UN staff, delegates from all accredited missions to the UN, and students from MoU (Memorandum of Understanding) and partner universities. The Middlebury Institute signed a memorandum of understanding with the UN in 2009 establishing cooperation in the design of programs aimed at training students to take and pass the UN's competitive language examinations, which qualifies them to become translators and/or interpreters at the UN.
The contest is administered by the Translation Services of the UN's Department for General Assembly and Conference Management (DGACM) and tests contestants' translation skills into Arabic, Chinese, English, French, German, Russian, and Spanish. Wang won the student prize in the Chinese category, while Mendenhall won the prize in the English category, translating from Spanish.
Mendenhall described the text contestants were given to translate as "pretty hard"; Wang agreed, commenting that "we don't even have the concept of the 'Millennial generation' in Chinese."
Entries in the contest were evaluated by a panel of two to three judges for each language. Judges paid particular attention to accuracy in conveying not only the meaning, but the nuances of the source text. The contest was launched in 2005 by the English Translation Service at UN Headquarters to commemorate International Translation Day, as well as to celebrate multilingualism and highlight the important role played by translators and language professionals in the work of the UN and other international organizations. St. Jerome is regarded as the patron saint of translators, librarians, and encyclopedists.
Translation & Localization Management student Wang is grateful that her Chinese professors Zinan Ye, Lijian Cai and Ruochen Cai encouraged her to enter the contest. "They have been very supportive all along, and I've learnt a lot from them, both in terms of translation and the scholarly spirit." Conference Interpretation student Mendenhall, who was similarly encouraged to enter by Prof. Holly Mikkelson, says she also entered because "I thought it would be fun; I'm a pretty competitive person." Her goal is to become a conference interpreter, preferably at the UN, which she describes as "a long-held dream."