MIIS Graduate Programs and City Year: "Perfect Match"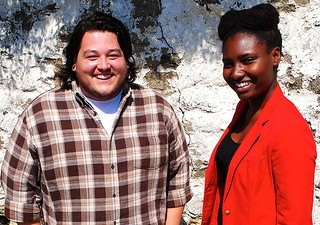 "I think MIIS and City Year are a great match – perfect actually," says Danyelle Lashay Mitchell (MAIEM/MPA '16), an alumna of the City Year Philadelphia program. She is passionate about community service and her desire to be a part of improving our society. City Year New York alumnus Eric Chavez (MAIEM/MPA '16), a fellow MIIS student from the Joint Masters in International Education Management and Public Administration degree program, is equally passionate about education and his desire to be "part of the solution."
Eric and Danyelle are a part of the first group of City Year alumni who came to the Monterey Institute through a new and exciting partnership program. The eleven-month City Year Corps program attracts young people who embody the pragmatic idealism the Monterey Institute seeks in its students. Making the option of graduate studies more accessible for City Year alumni, the Institute waives application fees and offers guaranteed scholarships.
Eric joined the City Year Corps to explore different options within the field and says the experience helped him define his career goals. In City Year he built on experience from his undergrad year abroad spent in Mexico working at a night school for street children. In New York he worked with students at the non-traditional Harlem Renaissance High School. Highlights include securing a large software donation from Adobe to help develop graphic design courses. His dream is to work in international development with a focus on education. He will be spending his winter term in Peru conducting field work as part of his policy analysis course and is exploring the option of participating in a school trip to Iran over spring break.
Danyelle would like to start a non-profit organization centered around international education after she graduates from MIIS. She is excited to delve into all aspects of non-profit management as part of her studies, including participating in the popular three-week intensive leadership certificate course, Design, Partnering, Management and Innovation (DPMI) and its sister program DPMI Plus, which includes a three- to nine-month internship in which she would apply her DPMI skills to benefit the host organization.