The Multiplying Effects of Acts of Kindness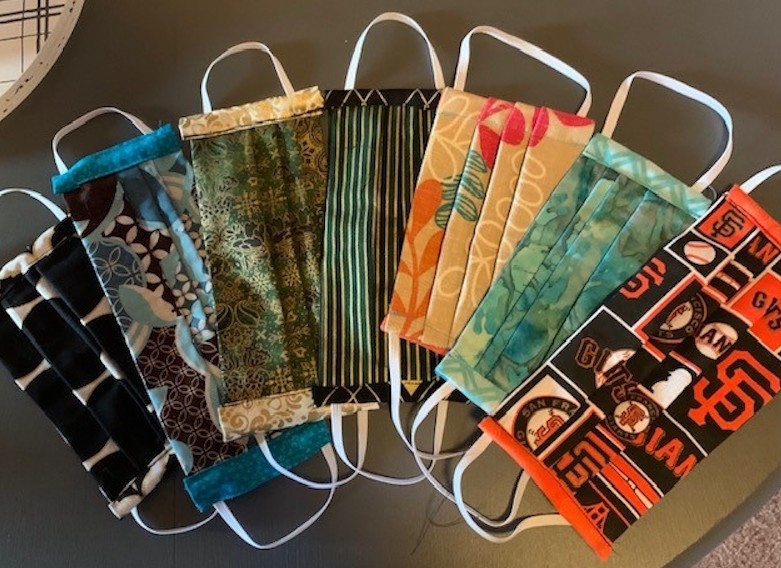 "When we first got sent home, I was in a tailspin, and when I get that way, the only thing I know to do, is do something for others," shares Operations Coordinator Naomi Braswell. She started sewing face masks in her spare time, turning her dining room into a mini factory, and sharing her productions with hundreds of people.
 
When Monterey County was ordered to Shelter-in-Place, Braswell transformed her dining room table into a workspace; on one side is her computer and everything she needs to do her work for the Institute, and on the other side is her sewing machine, elastic, and all the material she needs for her mask making.  
"I started out with my family," she shares. From there it grew to the neighbors and her local community. "I began carrying them in the car so that when I went into the grocery store, or saw a homeless person I could hand them out to those in need." Braswell contacted local hospitals and nursing homes, and soon her neighbors and friends started making requests for their family and friends. The community of people wearing Braswell's masks kept growing. "My daughter in Michigan, who is in the health industry shared hers with nurse friends and finally asked if I could make them for nurses/hospitals there." A friend in Japan asked if she could send a few masks their way.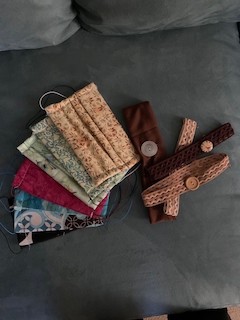 There has been quite a bit of innovation involved too. Braswell noticed that many people were getting sore ears from wearing masks so she started making headbands with buttons on the side so that the elastic could wrap around the buttons and spare the ears. As her production increased, she ran out of elastic. "I began raiding our closets and confiscating my husband's t-shirts, to make soft, no elastic needed masks, because there is nothing to be found in the stores or online."
Each one of the masks comes with a note: "These may not be made with the greatest of skill, but they are made with many positive thoughts, prayers and love from the heart." Braswell says sharing her creations with so many people has been very rewarding and that she truly believes in the multiplying effect of random acts of kindness. "My house hasn't gotten any cleaner – and my poor dog has little bits of thread all over him, but I have found a way to keep my mind quiet and my heart happy as we Shelter in Place amid the chaos of the world these days."