Pilot Project to Test Innovative Approach to Teaching and Learning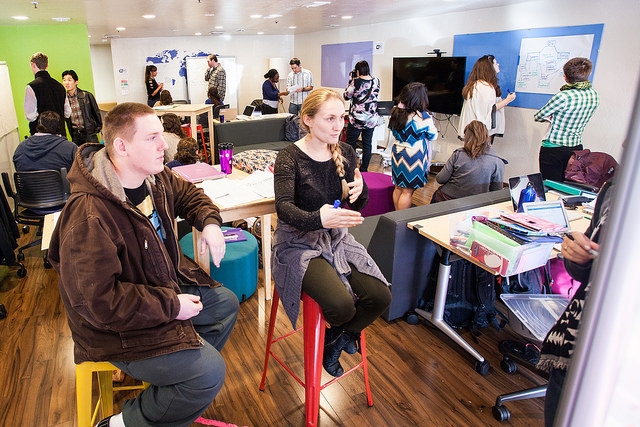 Imagine you're a graduate student. And imagine that, instead of juggling several classes at once, jumping from professor to professor, subject to subject, and project team to project team on a daily basis, you had the chance to take one class at a time, four hours a day, five days a week, covering an entire semester's worth of material in just three weeks. And then repeated the process three more times, until after 12 weeks you'd completed an entire four-course, full-load semester, one class at a time.
That's the basic concept of an innovative new approach to teaching and learning that 27 student volunteers at the Middlebury Institute will experience this spring. The block-scheduling approach isn't really the main innovation here, though. "Scheduling is just the means to accomplish the real innovation," maintains Beryl Levinger, co-director of the so-called "Sprintensive" project and chair of the Institute's Development Practice and Policy (DPP) program, home to the four courses that will be part of the initial pilot project. The real innovation is "a pedagogical approach that's all about hands-on learning, that's relationship-rich and feedback-rich, and that involves a great deal of peer-to-peer and faculty-student interaction."
Focusing on one subject at a time in an intensive way offers many advantages. In addition to reducing the distractions and competing priorities of a standard schedule, the intensive schedule ensures that the cohort of 27 students will be in every class together every day for a full semester. "They'll have the opportunity to develop some great working relationships" both with each other and with their professors, notes Project Coordinator Galen Anderson MAIEM/MPA '15, adding that "the students are effectively going to be colleagues," further preparing them for life in a professional work environment.
In one sense, the 27 students in the initial pilot project will be genuine pioneers, testing out a creative new approach to delivering a portion of the DPP curriculum. In another sense, however, they will simply be the newest beneficiaries of a method that has proven very effective in other contexts. The concept behind Sprintensive dates back 12 years to the introduction of the Institute's development and social change certificate program known as DPMI (Design, Partnering, Management & Innovation, founded by Levinger in 2003). The pilot program essentially applies DPMI's modular curriculum design and intensive three-week schedule to a set of four courses that will be taught consecutively rather than concurrently.
Given the very high evaluation scores that DPMI routinely receives from participants, it might have seemed inevitable that its unusual approach to teaching and learning would be given a broader application. But the concept proved stubbornly challenging to apply to a regular graduate school curriculum until two things happened—the project team decided to confine the initial pilot project to just one of the Institute's 13 master's degree programs, and the team's proposal to Middlebury's Fund for Innovation was approved. That funding has enabled the project team to provide "dedicated management support, a strong evaluation component, and opportunities for faculty to develop specific pedagogical skills for teaching in an intensive mode," according to Sprintensive co-director Amy McGill, associate provost for integration strategies.
For Anderson, the pilot project doubles as a uniquely valuable practicum-slash-professional development opportunity. "It's a wonderful challenge," says Anderson, who is working with faculty, staff, and students across campus to provide the programmatic and administrative support necessary for the project to succeed. She and the team welcome feedback at sprintensive@miis.edu.
Middlebury president Laurie Patton met with the Sprintensive team during one of her recent visits to Monterey, intrigued by their efforts to develop innovative learning approaches that can enhance the student experience. Levinger believes the intensive approach "will make a difference, and that people will eventually come here to participate in this program." Time will tell; for now, the 27 students in the pilot project can look forward to experiencing a unique approach to teaching and learning, and having their feedback play a key role in its future at the Institute.